Contacts
Accessibility Services (AS) and Deaf & Hard of Hearing Services (DHoHS)
---
Location:
AS and DHoHS are located in 1M35 on the main floor of Manitoba Hall. Accessible pickup and drop-off are available at the Ellice Ave. campus entrance (Lockhart Hall) just around the corner from our offices.
General Inquiries:
Call us at 786.9771, e-mail
accessibility@uwinnipeg.ca
or visit our front desk in person Monday through Friday between 8:30 AM and 4:30 PM in room 1M35 and we will direct your question to the appropriate staff member.
Staff: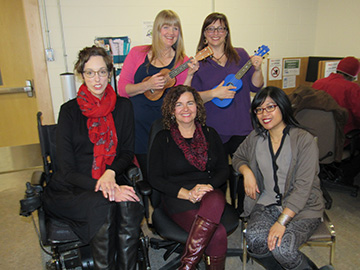 Accessibility Coordinator
Lara Coombs
office: 1M39
phone: 204.258.2938
fax: 204.774.3475
email: l.coombs@uwinnipeg.ca

Coordinator of Deaf and Hard of Hearing Services
Tessa Rogowski
office: 1M41
phone: 204.786.9704
fax: 204.774.3475
email: t.rogowski@uwinnipeg.ca
Accessibility Services Assistant

Colleen Kwade
office: 1M35
phone: 204.786.9771
fax: 204.774.3475
email: c.kwade@uwinnipeg.ca  
Exams and Adaptive Technology Coordinator

Jamie Ducusin
office: 1M51
phone: 204.786.9178
fax: 204.774.3475
email: j.ducusin@uwinnipeg.ca
Accessibility Advisor

Jesse Turner
office: 1M37
phone: 204.786.9027
fax: 204.774.3475
email: je.turner@uwinnipeg.ca
For more details on our services, please visit:
Accessibility Information for Students or
Accessibility Information for Faculty
< Back to Accessibility Services and the Accessibility Resource Centre Home