Test/Exam Booking Information
Online Test/Exam Accommodations
Due to COVID-19, the majority of fall 2020 courses will be administered online. If the standard arrangement for your test is in-person, you will be writing in the AS Test Centre at 1M45 instead.
Once you are registered with AS, your next step will be to log into the AS Student Portal to request a Letter of Accommodation for your instructors at the beginning of each semester. Your instructor will receive an automated email with instructions for viewing your letter. You will then need to follow up with your instructor by email or in person regarding your classroom accommodation needs.
Next, you will need to book your tests and exams on the AS Portal using the information in your course outlines. You will need the date, start time and duration of each test and exam.
Once booked, your instructors will receive an automated notice 7 days in advance and 2 days in advance of each test/exam, confirming your extended time (if applicable), which your instructor will adjust accordingly using the online test platform.
You will receive an automated reminder of your test/exam booking 3 days in advance. You can also review their test/exam bookings anytime using the online AS Student portal. The information can be found under "My Upcoming Events".
Please check the UWinnipeg website for regular updates.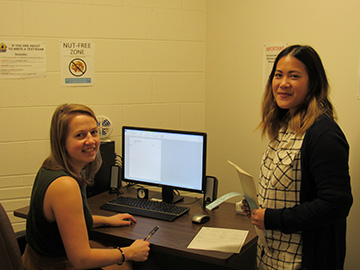 Examples of Test/Exam Accommodations
• Extended time to write
• Quiet space
• Access to computer/adaptive software
• Alternate format (large print, electronic text)
• Reader and/or scribing assistance
Deadlines:
Tests & Midterms: 2 weeks before test date

Final Exams: 4 weeks before exam date
Writing tests/exams with Accessibility Services
Guidelines for Writing Tests/Exams with Accessibility Services
By writing with Accessibility Services, I understand that I must:
Book tests two weeks in advance; book final exams 4 weeks in advance.
Notify AS immediately if I withdraw from a course or if I no longer need a test/exam booking.
Ensure that my AS portal test/exam booking dates and times are the same as the class test/exam dates and times.
Notify AS in advance if I have a scheduling conflict such as back-to-back class times.
Arrive at Accessibility Services with photo ID at least 15 minutes prior to my test/exam.
Contact AS immediately if I'm running late; extra time will not be given to compensate for arriving late. If I am 30 minutes late, AS staff will contact instructor for permission to write due to lateness.
Contact AS and the course instructor if I cannot write my test/exam due to disability-related reasons.
< Back to Accessibility Services Home