Writing Tests/Exams under AS Supervision
Accessibility Services (AS) and Deaf & Hard of Hearing Services (DHoHS)
---
What are Test/Exam Accommodations?
A student's disability or medical condition may impact their ability to take tests/exams under the standard conditions in a classroom or laboratory setting. For example, a student with Cerebral Palsy may find it difficult to write fast and legibly for a three-hour exam. In order to assist this student, AS may recommend access to a computer for tests/exams.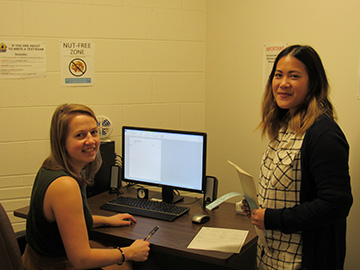 Other specific examples of test/exam accommodations include:
alternate format test/exam (such as a large print copy of the test/exam questions for a student with a visual disability)
computer usage for tests/exams with a written component for students with Learning Disabilities to access the spell-check/grammar function or adaptive software to have the questions read aloud to them 
extended time to complete tests/exams for students on medications that impact memory
As with any other academic accommodation, test/exam accommodations are selected based on documented need. Students who are thinking of registering with AS must meet with either the Accessibility Coordinator or Accessibility Advisor and provide current documentation so that together you can discuss appropriate academic accommodations.
Test/Exam Booking Procedure for AS

Students requesting disability-related test or exam accommodations under supervision in the Accessibility Resource Centre (ARC) and have already registered with AS should submit their complete test/exam booking information [PDF] at least:

- Two weeks in advance of a September-November, January-March, or May-August test date

or

- One month in advance of the December or April examination period.

The specific deadlines for the current academic year are:
Friday, November 10th, 2017 for December 2017 tests/exams
and
Wednesday, March 14th, 2018 for April 2018 exams

Request for Test/Exam Bookings Forms are available for current AS students:
- in paper copies at the front desk of the ARC (1M35) or
- you may download an electronic copy here [PDF] and e-mail the completed form to our office
- Alternate text format is also available upon request from us at accessibility@uwinnipeg.ca  

Each student who receives test/exam accommodations through AS is responsible for understanding and following the Guidelines re: writing tests/exams with Accessibility Services. These are found as a separate sheet attached to the purple Request for Test/Exam Bookings Form and outlines your responsibility when requesting to book tests/exams through AS as follows:
WRITING TESTS/EXAMS WITH ACCESSIBILITY SERVICES
By requesting to write tests/exams with Accessibility Services (AS), I understand that:
I must submit requests to book tests/exams before the advertised booking deadlines.
I must notify AS immediately if I withdraw from a course or if I no longer need a test/exam booking.


I must remind my instructors in advance that I will be writing tests/exams with AS.
- Let your instructors know as soon as possible that you have registered with AS and if there are certain tests/exams you will need to write with us. If they want this verified, they can contact our office.
- AS will contact your instructor directly to obtain a copy of the test and will provide them instructions up to two working days in advance of your test/exam date(s).
I am booking tests/exams for the same dates and times as the rest of my class.
- You need the prior approval of your instructor to write tests/exams on a different date or time (i.e. for medical reasons). Ask one of the AS testing staff (either Jamie or Jenny) if this needs to be arranged. AS must receive direct permission from your instructor at least two weeks before your test.
- Let AS know immediately if you are booking a test that has a class right after it. Otherwise, you will automatically be scheduled for the regular (class) start time and may miss some of your next class.
I should keep a copy of any test/exam information I have already given AS.
- Make a photocopy before turning in your request form so you always know what you've booked.
- AS does not send confirmation of what you have booked, so you need to keep track for yourself.
I should check in at room 1M35 at least 15 minutes before my test/exam start time and bring photo ID.
- If you are ill or running late, you must contact AS by calling 786-9771 as soon as possible.
- You will not be given extra time to compensate for arriving late.
- Contact both your instructor and AS if you cannot attend your exam due to illness, etc.
I agree to abide by the same academic and test/exam-writing regulations as when I write with the rest of the class*.
- Before your test starts, show your proctor (invigilator) all the materials and items you will have with you.
- Remove ALL non-permitted items (cell phones, PDAs, MP3 players, purses, backpacks, notes, textbooks, jackets, food/drinks unless allowed in advance for medical reasons, etc.). They will be under staff supervision during your test/exam.
- Ask your proctor if you need scrap paper. You are not allowed to use your own brought from home.
- During your test/exam, breaks are NOT provided for you to: smoke, obtain food/drinks, move/re-park your car or add to your parking meter, make/take phone calls, etc. Make the proper arrangements ahead of time. Pre-approved, medical-related breaks (ie. to stretch) are already counted as part of your total time. 
- DO NOT leave the exam room until you have completed your test/exam and have first notified your proctor that you are finished writing.
- You are allowed to use only the nearest accessible washroom but you must see your proctor before you leave and when you return to sign in and sign out.
*It is your responsibility as a student to review those parts of the General Calendar that pertain to Academic Misconduct, Plagiarism and Cheating, Final Examinations, Deferred Examinations, and Examinations – Impersonations.
< Back to Accessibility Services and the Accessibility Resource Centre Home