Resources for Students
Calls for Papers, Proposals, and Applications
---
Calls for Papers, Proposals, and Applications
Caring Queerly: Queer Health Symposium
October 19-20, 2023 | University of Manitoba
Caring Queerly: Queer Health Symposium invites submissions for a Student Workshop in Queer Health and Healthcare, to be held on October 20, 2023.
With special guest commentator: Dr. Jake Pyne, York University
---
Job/Volunteer Postings
Manager of Programs (Interim) - Acorn Family Place
Reporting to the Executive Director, the goal of the Manager of Programs is to oversee the development and delivery of quality programs to support the wellbeing of families with young children in our community-based family resource centre context. This is a one-year term position (parental leave coverage) with possibility of extension.
Employment Specifications
Anticipated start date: October 16, 2023
Hours: 37.5 hours a week (9am-5pm, Monday- Friday, with the possibility of occasional evenings or weekends)
Term: 1 year term (until October 31, 2024), with possibility of extension
Salary Range: $26-30/hour, commensurate with qualifications and experience
Benefits: Group disability, life insurance, pension, health and dental package, EAP, 6% vacation
Closing date: September 24, 2023
View the full job posting online
Research Coordinator - Ndinawemaaganag Endaawaad Inc.
The Research Coordinator is responsible for the project coordination, data collection and compilation, aiding in the analysis of research, drafting of project information and reports, and aiding in the development of planning options for policy implementation. The Research Coordinator assumes all duties and responsibilities in accordance with the organization's philosophy, direction, and policy standards.
Applicants are required to send a current resume with a cover letter clearly outlining your qualifications to:
Human Resources, Ndinawemaaganag Endaawaad Inc.
650 Burrows Avenue
Winnipeg, MB R2W 2A8
Email: recruitment@ndinawe.ca
Salary: $21.42/hr for 75 hours biweekly
Classification: full time
Hours of Work: To be Determined
Reports To: Director of Programs & Services
Closing Date: Open until filled
Employment Opportunity: More Than Four Walls, Housing First Worker
The Housing First Worker will support women, and gender diverse people who are experiencing homelessness to find and maintain permanent housing through a Housing First Intensive Case Management approach.
Term: until March 31, 2025 (may be extended upon confirmation of funding)
Salary: $22-$26 hour, plus benefits package (6% vacation pay, plus a benefits package and matched RRSP after 3 months)
Time requirement: 37.5 hours/week (75 hours biweekly)
Closing date: Open until filled
Please submit resume and cover letter to the attention of the Personnel Committee with the title of the position in the subject line. Cover letter should expressly indicate how your experience meets the job requirements.
By email: carey@wcwrc.ca
Mail: West Central Women's Resource Centre | 640 Ellice Avenue | Winnipeg, MB R3G 0A7
For more information about the organization or the position, view the job posting online
---
Events and Conferences
Fairy Tales and the Otherwise
Guest Speaker Cristina Bacchilega
Friday, September 22, 2023 | 12:30-1:30
Centre for Research in Cultural Studies (3C25) and on Zoom
To join on Zoom contact Sabrina Mark (sa.mark@uwinnipeg.ca)
Certain fantastic tales invite us not only to go elsewhere with our imaginations, but also to imagine and think otherwise. Taking up this invitation in selected animated fairy-tale films, I focus on their storyworlds and the dynamic process of cocreation involved in storyworld thinking. These wondrous narratives present us with networks of relations that inspire moving beyond anthropocentrism, and they project or call for a counterworld to lived realities of injustice. My approach combines fairy-tale studies, postclassical narratology, cultural studies, Indigenous studies, and gender studies.
Cristina Bacchilega is Professor Emerita of English at the University of Hawai'i-Mānoa and coeditor of Marvels & Tales: Journal of Fairy-Tale Studies. Her books include Postmodern Fairy Tales: Gender and Narrative Strategies; Legendary Hawai'i and the Politics of Place; Fairy Tales Transformed? 21st-Century Adaptations and the Politics of Wonder, and several coedited anthologies including Inviting Interruptions: Wonder Tales in the 21st Century with Jennifer Orme.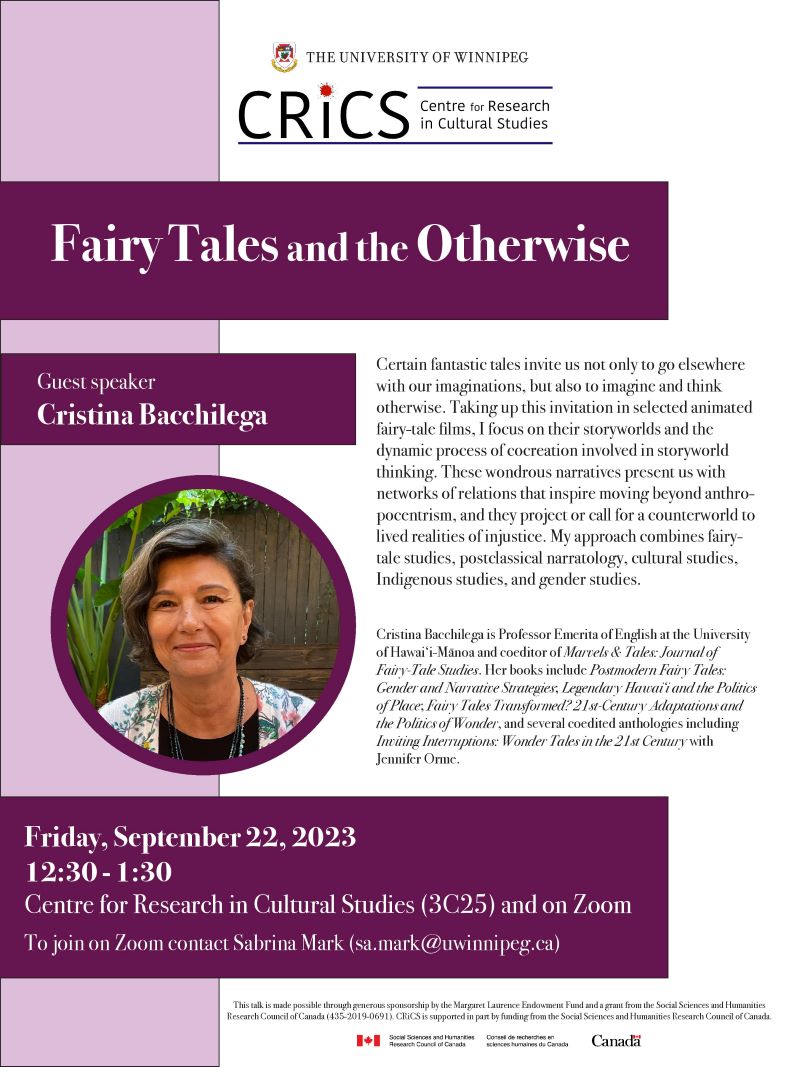 Building Trans Solidarity Event Series
The Building Trans Solidarity event series will bring academics, educators, students, and artists together at The University of Winnipeg to unpack contemporary issues facing transgender, Two-Spirit, and gender non-conforming communities, and to celebrate their resiliency and work towards an inclusive, discrimination-free future.
Saturday, September 23
Keynote Lecture: Desiring Trans Dyke Poetics by Dr. Trish Salah, Associate Professor and Grad Chair, Department of Gender Studies, Queen's University. Eckhardt Gramatté Hall, UWinnipeg, 11:00 a.m. to 12:30 p.m.
Education Roundtable: Supporting 2SLGBTQ+ Students in Our Schools and Libraries. Q & A to follow. Eckhardt Gramatté Hall, UWinnipeg, 2:00 p.m. to 4:30 p.m.
Thursday, September 28
Virtual Keynote Lecture: The Black Trans Renaissance by Dr. Riley Snorton, Mary R. Morton Professor in the Departments of English Language and Literature, Race, Diaspora, and Indigeneity, the Centre for Gender and Sexuality Studies, and the College at the University of Chicago. Event begins at 7:00 p.m.
Sunday, October 1
Cultural Event: Another Place// hosted by Ace Art Inc. (206 Princess Street). An evening of Two Spirit, queer, and trans poetry and sound art. Doors 7:00 p.m. Show 7:30 p.m.
Thursday, October 5
Virtual Roundtable: Transphobia Right and Left. Event begins at 6:00 p.m. More details to follow.
Trans and Queer Community Art
A Hybrid Workshop Featuring Cat Haines and Jaye Kovach
Wednesday, Sept 13, 11:00-12:30
Classroom Building 434
Join Jaye Kovach and Cat Haines as they discuss and present their work. Jaye Kovach's presentation will offer a discussion based primer on her work that often engages the queer and trans community, and her positionality as a disabled and neurodivergent, butch trans woman.  This hybrid event is sponsored by Queer City Cinema and URQI. 
Attendees are welcome to come in-person or participate online. Masking is strongly encouraged. 
Zoom Link: https://us02web.zoom.us/j/89311431435?pwd=NWlORjBDUmZrenFyZjB1dHpOSkxvdz09
Meeting ID: 893 1143 1435
Passcode: 138418
Poster Link:  Poster
Artist Bios   
Jaye Kovach is a multimedia and performance artist who lives as a white Magyar/Scottish settler on Treaty 4 territory (Regina, Saskatchewan). Her work, which has received local and national attention, often engages their queer and trans community, taking as its starting point his positionality as a disabled and neurodivergent, butch trans woman. In 2019, she was featured in the spotlight section of Canadian Art's FEMME issue. In 2020, they attended the Intergenerational LGBT Artist Residency. His performance work has been presented at Queer City Cinema/Performatorium, a queer media and performance art festival based in Regina that attracts international artists and filmmakers. Jaye is a current participant of Tender Container's Peer Mentorship Platform, Do Trans People Dream of Non-binary Sheep?. She also facilitated the Capacitor project, a programming channel for Two Spirit, trans, non-binary, and gender non-conforming artists with a connection to Saskatchewan, with the University of Saskatchewan (USask) Art Galleries and Collection. Most recently they have been named interim project director for Into The Streets.
Cat Haines is a genderqueer trans woman, dyke, and academic/artist weirdo, frequently working with an autotheoretical methodology, and mediums ranging from the videogame Minecraft, to film, watercolor portraiture and figurative painting. Cat graduated with an MA in Women and Gender Studies from the University of Regina in 2021, where she wrote her thesis "Transmisogyny and the Abjection of Girlcock." In 2022 Cat released "Trans Feminist Self Help Zine: Volume 0" with the micropress Gravitron where she critically examines her post-surgically transitioned body and the industrial medical complex that allowed her surgically transition.