Resources for Students
Women's & Gender Studies
---
Calls for Papers, Proposals, and Applications
---
Calls for Papers, Proposals, and Applications:
The Bridge Prize National Short Story Award
The Bridge Prize celebrates short story writing by post-secondary students.
Presented by the University of Lethbridge School of Liberal Education, the Bridge Prize intends to inspire and motivate the next generation of Canadian literary artists as they embark on their professional writing careers.
Open to any student attending a Canadian college or university.
Submissions open: March 30, 2021
Submission Deadline: January 24, 2022
First prize: $7,500
Three additional finalists: $1,000
Each winning author also receives a $200 gift card courtesy of Munro's Books.
Visit the website or download the information sheet [PDF]
A Canadian Access to Justice Needs Assessment for Two Spirit, Trans, Non-Binary and Gender Non-Conforming People
Do you identify differently than the gender you were assigned at birth? Are you 12 and over? Do you live in Canada?
You can participate in a research study about Two Spirit, trans, non-binary, and gender non-conforming access to justice needs in Canada.
Those interested should fill out the survey found at tinyurl.com/2stnbgna2j.
You will be compensated $50 for taking part in a focus group session or one on one interview.
This study is trans-led and community focused. For more details about the community ethics process please contact project@justicetrans.org Tai Jacob, Project Manager.
In partnership with: Femmes et Égalité des genres Canada/Women and Gender Equality Canada and Carleton University, Office of Research Ethics
Learn more about the study: https://justicetrans.org/en/a2j-project/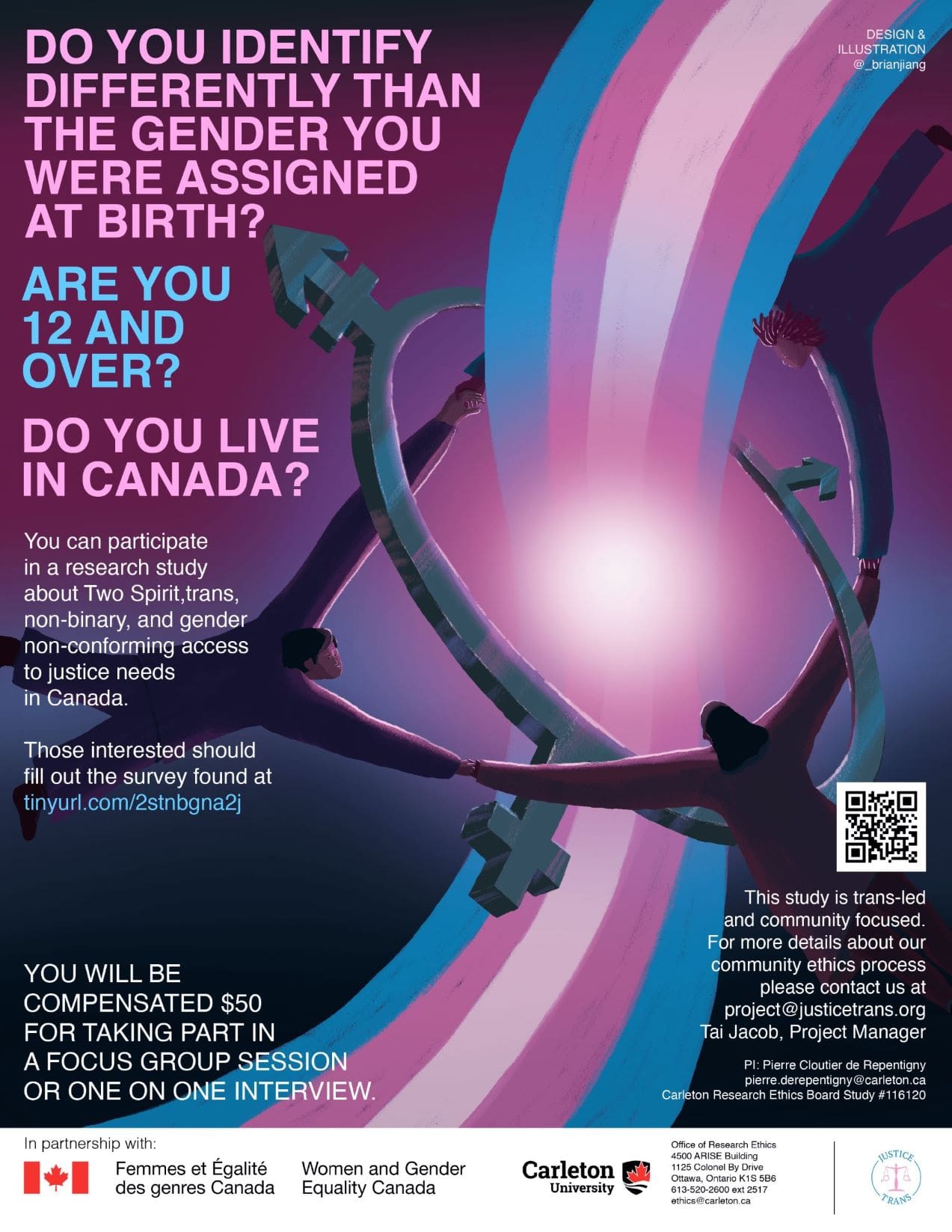 ---
Job and Volunteer Postings:
Check back for job postings!
---
Events and Conferences:
Check back for information about upcoming events and conferences!