Mothers, Mothering, and COVID-19
Demeter Press is honoured to announce the first-ever publication on Mothers, Mothering, and COVID-19.
Read the UWinnipeg News article about the publication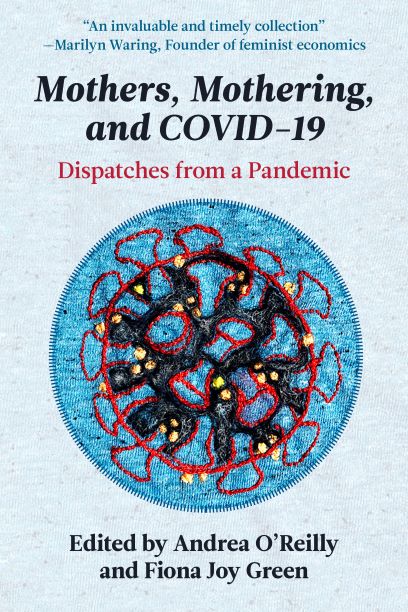 These dispatches provide raw, diverse, critical evidence that much of the economy did not 'stop' under Covid-19. Production and service work shifted from the paid to unpaid sector creating intensive days of triple shifts for mothers. It shifted to the working unit – the home – what economists declare is unproductive. This invaluable and timely collection is compulsory reading for policy makers and researchers to support and empower mothers, the pandemic's most overworked, reliable, and invisible workers.
- Marilyn Waring, public policy scholar, former politician, and a principal founder of feminist economics
There has been little public discussion on the devastating impact of Covid-19 on mothers, or a public acknowledgement that mothering is frontline work in this pandemic. This collection of 45 chapters and with 70 contributors is the first to explore the impact of the pandemic on mothers' care and wage labour in the context of employment, schooling, communities, families, and the relationships of parents and children.
With a global perspective and from the standpoint of single, partnered, queer, racialized, Indigenous, economically disadvantaged, disabled, and birthing mothers, the volume examines the increasing complexity and demands of childcare, domestic labour, elder care, and home schooling under the pandemic protocols; the intricacies and difficulties of performing wage labour at home; the impact of the pandemic on mothers' employment; and the strategies mothers have used to manage the competing demands of care and wage labour under COVID-19. By way of creative art, poetry, photography and creative writing along with scholarly research, the collection seeks to make visible what has been invisibilized and render audible what has been silenced: the care and crisis of motherwork through and after the COVID-19 pandemic.
The maternal voices and visions dispatched in this collection contribute to the necessary and long-overdue conversation on, and action towards, empowered social change for workplace justice and the re-evaluation of care work as an essential part of an economic agenda.
Visit the Demeter Press website for more information