My Home Page
When you log in to Nexus at https://nexus.uwinnipeg.ca, you will see the "My Home" page. On this page, you can access all of your online courses, view important campus-wide news and updates, access your Nexus e-mail, and more.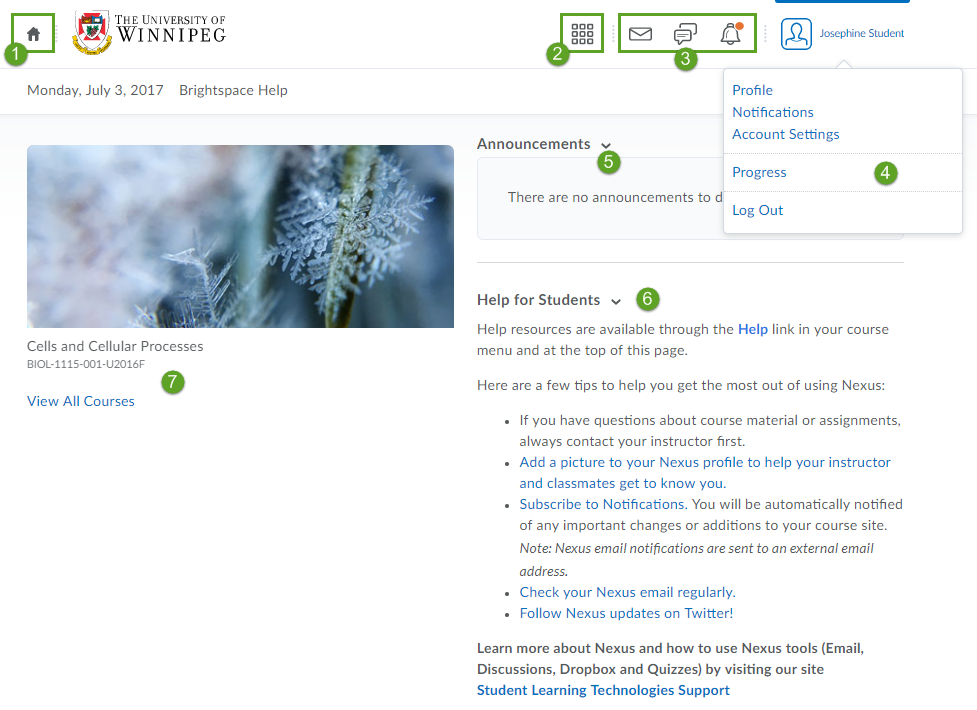 1.

Click My Home in the Minibar or the Nexus logo to return to the My Home page. The Minibar will appear at the top of every page in Nexus and is your main navigation tool to courses and personal settings.
2.

Your courses are listed in the Course Selector and you can sort them by course name or by date last accessed. You can also pin specific courses to the top of the list for easier navigation.
3. The Notification Icons:
Click the Message Alerts icon to access the Nexus internal Email tool. An orange dot will appear when you receive new mail.
Click the Updates Alerts icon to see new and updated news posts, upcoming end dates and due dates, and new and updated grades. An orange dot will appear when new items need your attention.
Click the Subscriptions Alerts icon to see new blog posts and discussion posts in forums, topics, and specific threads you subscribed to.
4. Click your name on the Minibar to open your Personal Menu. The Personal Menu contains links to your Profile, Notification options, Account Settings, Progress and Logout.

5. Important system-level Announcements items will appear in the Announcements widget on the My Home Page.

6. Help for Students contains links to support documentation and other helpful resources, including the Nexus Twitter feed.

7. The My Courses widget appears on the left side of Announcements and groups courses by Term. Please note that courses may not appear until the day they are scheduled to start. Courses you currently have access to appear as a link.