Student Awards and Financial Aid
Visit the Awards and Financial Aid webpage for more information about opportunities and deadlines.

There are also a number of department scholarships and awards offered each year. These awards are merit-based and are specific to the Philosophy program. To be eligible for these awards, students must have declared their major in Philosophy. There is no application required for these awards.

External Awards
The 13th Annual Dr. Brian M. Keenan Prize
$1500.00 Scholarship Opportunity for Undergraduate Philosophy Students to encourage and support philosophical education
The Dr. Brian M. Keenan Prize is a national scholarship founded to, first, honour Dr. Brian Keenan's life-long commitment to philosophical education and to, second, motivate and support post-secondary philosophic inquiry. Brian Keenan served as a professor of Philosophy at the University of Winnipeg for 37 years, from 1972 – 2009. In his time there he inspired countless students to engage critically with the world around them and to see the outworking of philosophical theories in practical life. The award committee is excited to be celebrating the twelfth year of the prize and are hoping for another year of insightful submissions. The scholarship consists of a onetime cash prize of $1500.00 awarded to an undergraduate student attending a Canadian university or college.
This past year, the Keenan Prize shortlist continued to include applicants from across the country and the 2021 prize was awarded to Nicholas Duguay for his paper "The Problem of Stability: A Case for Civic Friendship in the Rawlsian Society". Please see the Dr. Brian M. Keenan Prize website to read Nicholas' paper and take a look at the 2021 shortlist. The prize will be awarded again this year to a candidate who submits a paper in the area of Philosophy of History, Law, or Social and Political Philosophy.
Deadline for submission is May 31, 2022 and the prize winner will be announced on October 1, 2022.
For more information, visit www.keenanprize.ca or contact the committee at keenanprize@gmail.com.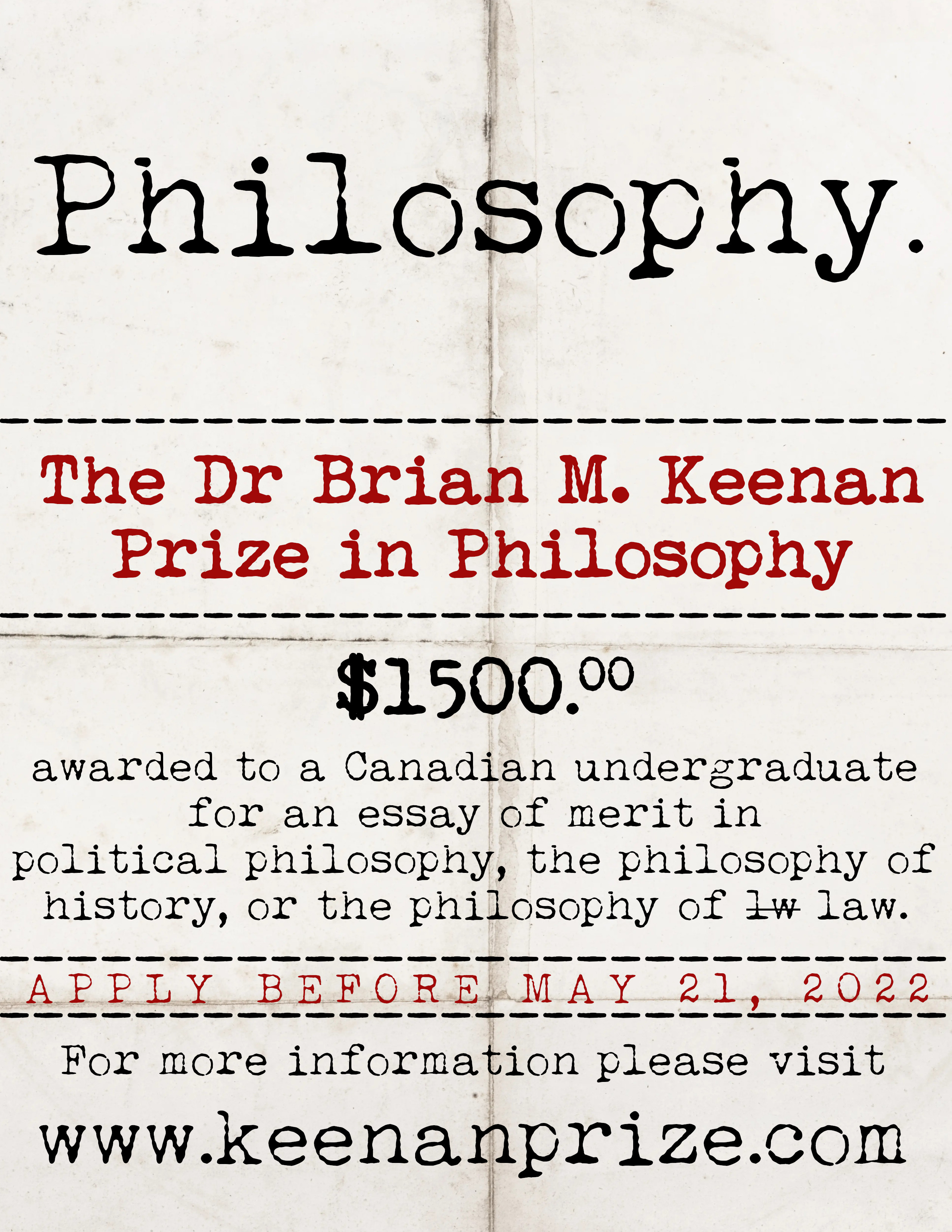 Victor Y. Shimizu Kant Prize
This prize has been established in honour of Dr. Victor Y. Shimizu, who taught Philosophy at United College and The University of Winnipeg from 1958 to 1995. It will be awarded annually for the best essay on an individual philosopher, movement, or theme in the early modern period (seventeenth and eighteenth centuries).
Dr. David Owen Memorial Scholarship in Philosophy
Established by the family, friends and colleagues of Dr. David Owen, a distinguished scholar and professor at The University of Winnipeg, 1932-1972. Dr. Owen chaired the Department of Philosophy from 1935 until his retirement in 1966 and continued teaching until 1972; in 1973 he was made a Fellow of United College in recognition of the outstanding contribution which he made to the institution. This scholarship will be awarded on the recommendation of the Department to a senior student in the Major or Honours program in Philosophy best exemplifying qualities of academic excellence and breadth of interest.
Doba and Maier Calof Memorial Scholarship in Philosophy
This scholarship is funded by the Erica and Arnold Rogers Fund for Academic Excellence. It will be awarded annually to the most promising student entering the Third year of the Philosophy Major or Honours program.
Sydney Gallis Memorial Scholarship in Philosophy
This scholarship will be awarded annually, on the recommendation of the Department, to a meritorious student continuing their studies in Philosophy who exemplifies the spirit of philosophy.
Dr. Philip Wright Memorial Prize
In memory of the late Professor Philip B.Wright, Ph.D., an award is offered annually for the best essay submitted on any aspect of the work of Plato in the non-analytic tradition. Candidates must submit the essay to the Philosophy Department Chairperson.
Peter Miller Environmental Ethics Prize
This prize was established at the time of his retirement to honour Dr. Peter Miller and his years of teaching Philosophy at The University of Winnipeg (1967-1999). It will be awarded on the recommendation of the Department of Philosophy to a student who has achieved distinction in the study of Environmental Ethics.