COVID-19 Updates
Mon. Sep. 7, 2020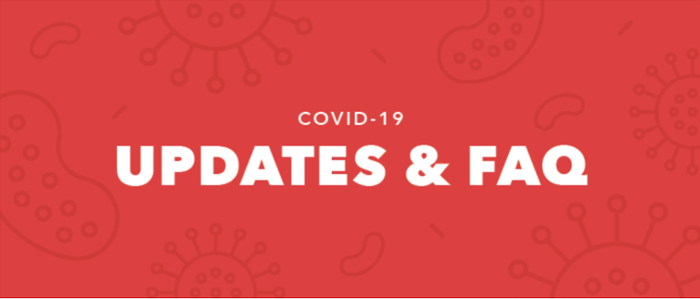 Manitoba public health officials have changed the Pandemic Response System caution level to orange ("restricted") for the Winnipeg metropolitan region, effective September 28. The additional restrictions do not affect the classes, labs, and research activities that are already authorized to take place on campus - as these adhere to safety protocols under the existing public health order. However, non-academic activities must adhere to the enhanced (orange-level) restrictions, which include a limit of public gatherings to 10 people, both indoors and outdoors - and mask use in all public spaces. Full details of the new restrictions in Winnipeg can be found here: https://www.gov.mb.ca/covid19
To ensure the safety of Students, Faculty, Staff, and Visitors to our campus, the University of Winnipeg is closely monitoring the COVID-19 (Corona virus) situation in accordance with the Public Health Agency of Canada and the Province of Manitoba guidelines.
In keeping with public health advice and post-secondary institutions across Canada, UWinnipeg will deliver the bulk of its educational instruction through alternate modes of delivery for the fall term. The safety of our students, faculty, and staff is our top priority. Our planning is driven by our academic mission and is focused on ensuring that UWinnipeg will continue to deliver a top-quality educational experience for our students.
With respect to the public health situation on COVID-19 and its impact on the University of Winnipeg functions, all public events and lectures on-campus are currently cancelled until further notice.  
The campus facilities will be open to some students starting September, 2020 based on individual needs. Faculty, staff, and students will be expected to wear masks when occupying indoor public spaces — including classrooms, labs, study areas, washroom, lobbies, hallways, and student residence common areas. If it is absolutely necessary for you to visit the UW campus, please visit on-campus learning FAQ to ensure everyone's safety on- and off-campus.
Please remember that it is important to remember that every member of our university community should be treated with respect and dignity. No person should be targeted in any way or subjected to discrimination resulting from a misplaced perception that they may be a carrier of a communicable disease based on their perceived disability, race, ancestry, place of origin or otherwise. 
It is also important to maintain confidentiality should a student or employee be confirmed to have COVID-19 or other communicable illness.
---
The Global College and the University of Winnipeg students are strongly advised to keep communication with their instructors through UW Webmail, Nexus, and WebAdvisor. 
Human Rights students:
Winter 2021 Term Update. Due to the ongoing public health situation — and to safeguard the wellbeing of the UWinnipeg community — the Winter 2021 term will be delivered similar to Fall 2020; mostly remote deliver with a small number of classes on campus. Read more
All Human Rights program courses offered online are now available on WebAdvisor. Tiered registration for Fall/Winter courses will begin on July 6, 2020 and continue throughout July and August. Information on registration dates and times will be sent by UW Webmail to students in early July. To view HR courses offered in Fall/Winter 2020-2021, click here. 
Practicum update: 
Domestic Practicum Placement: Despite the fact that University of Winnipeg and Global College will solely be offering online classes throughout the Fall term, Human Rights students may be able to complete domestic practicum placement in some Winnipeg-based agencies beginning in September. Human Rights students who are interested in enrolling in practicum placement 'HR-3510' course must contact the Practicum Coordinator Ruth Taronno (at r.taronno@uwinnipeg.ca), who will provide you with a practicum placement application and up to date information about possible placements. 
International Practicum Placement: Following the Public Health Agency of Canada and World Health Organization (WHO) regulations on COVID-19 pandemic, all opportunities for the International Practicum Placement are on hold indefinitely until current travel restrictions relax and until authorized by the University of Winnipeg.
---
Academic Advising: 
Academic Advising is assisting students online via ZOOM, email, and telephone. Please contact academic advising by emailing at advising@uwinnipeg.ca to make an appointment. 
---
Student Central:
Student Central will no longer be open for in-person student inquiries, but staff are working remotely, as the COVID-19 situation continues to evolve. Please contact Student Central by emailing at studentcentral@uwinnipeg.ca for your inquiries.
---
UW Library:
The University of Winnipeg library remains closed, but all services are available online. Undergraduate students will be able to request print books beginning Thursday, October 1. Students will be limited to a maximum of 5 items per request and will be required to follow all safety guidelines in effect on campus. The process for requesting and picking up materials and other updates are posted at the Library Pickup Service page. 
---
All other student services facilities, including awards and financial aid, counselling, Aboriginal student services, are supporting students remotely. Please see services listed here to arrange appointments. 
The Campus Bookstore is offering free shipping on all online orders, with no minimum purchase, and extending the non-return period without penalty. Please visit their website for details. 
For most recent updates, FAQ's and answers please visit the University of Winnipeg main webpage at www.uwinnipeg.ca/covid-19/. 
---
Stay healthy and be well! We are all in this together, so let's do our best to prevent the spread of COVID-19!