On-campus Learning FAQ
COVID-19 FAQ (Updated: February 1, 2021)
---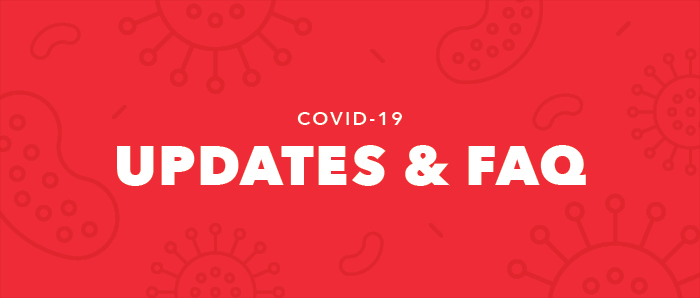 Will any classes take place on campus this fall?
Most classes will continue to be delivered online. Only a select number of courses are approved to be taught on campus. 
My studies require me to attend in-person. How do I access campus?
If attending classes on campus, please use the Shared Manitoba Self-Screening tool prior to arrival on campus. 
Once on campus, you will need to tap your new Student Card at the check-in desk. You will need to repeat this process for any building that you access.
Access to campus facilities will be based on the 'pod' that your classes are assigned to. There is a single point of entry and exit to each building.  
You will see COVID-19 related signage across campus. Please follow the direction on these signs, which are in place to provide information and ensure your safety while on campus. You will notice floor decals located around campus as a reminder to maintain two metres of distance between yourself, other students, faculty, and staff while you are on campus.
We ask that you only stay on campus during required class periods and to spend the minimum amount of time on campus as possible.
Why do I need to complete and sign an Informed Consent Form before coming to campus?  
While UWinnipeg has undertaken to ensure reasonable measures are in place to reduce the spread of Covid-19 (based upon advice and guidance from Manitoba Public Health), the University cannot guarantee that any individual attending to and using the University's facilities will not become infected with Covid-19.
With this in mind, and as a part of the University's Return To Campus planning and safety measures, and for the benefit of the broader UWinnipeg community engaging in on-campus activities, the University is requesting that students who are using the facilities carefully review, confirm and agree to the statements contained within the Covid-19 Informed Consent Form. Students are required to complete this form prior to coming to campus.
How do I get a form?
Students who are registered for in-person classes or who have booked a study carrel will have an electronic version of the Informed Consent form sent to their UW email account using Adobe Sign. Students will be able to complete, sign and return the form electronically.  Should you have any questions on how to use Adobe Sign or if you did not receive the form (please check your junk folder first), email the Scheduling Office at scheduling@uwinnipeg.ca.
Will I have access to a sanitization station while on campus?
Yes, stations will be located at every entrance to the University, and at the entry to most classrooms and high traffic areas. Please sanitize your hands and wash with soap and water for at least 20 seconds before entering or exiting buildings on campus. Keeping your hands clean is the best and most effective way to prevent the spread of COVID-19.
What if I need assistance or have questions while on campus?
Campus ambassadors will be available in designated buildings to point you in the right direction and answer your questions. Look for staff wearing white shirts with The University of Winnipeg Logo.
As the campus re-opens in a reduced capacity, and with limitations on building access and services, our campus ambassadors are there to help you safely navigate spaces on campus.
Am I allowed to study on campus?
Students should not remain on campus unless they are attending classes or labs. Those without approval to be on campus are asked to stay home.
If you have approval to book on-campus study space, you will be able to book one week in advance, starting the week before your desired study time. Social distancing protocols and sanitation practices will be followed.
Space will be available daily from 8:00 am to 12:00 pm, 12:00 to 4:00 pm.
Computer workstations and study carrels will be designated as quiet work spaces. Headphones will be strongly encouraged for students viewing videos.
Please submit a reservation request form to book a computer workstation or study space.
Who has access to on-campus workstations?
Campus workstations are currently only available to students who do not have reliable internet or a quiet space to study, students who need accessibility software on their computer or have other exceptional circumstances preventing them from studying at home, and students who have a synchronous on line course right after an in-person course.
I have accessibility needs, is there software to support me?
Yes. Computers with accessible software will be available for booking by students with accessibility needs.
Can I book an on-campus space for group projects?
No. If you need to work on group projects, you will need to do so off-campus due to the need for quiet by other students, and to maintain COVID-19 safety protocols. 
Do I have to book space ahead of time?
No. If space is available you can book your space on your mobile device on the day you need it. A confirmation email will be sent to you, and to Security. This confirmation email will allow you to access the space.
Will work stations be cleaned thoroughly between bookings?
Yes. University staff will clean stations thoroughly between bookings. We also encourage your to do your own sanitizing. Cleaning products and hand sanitizer will be available.
Will I have access to a printer? 
Yes. Printers will be available for student's using on-campus study spaces. Visit our Tech Sector website for information on how to print material. 
Can I book a locker? 
Lockers will not be available for students in the Fall 2020 term. Students attending labs in the Richardson College for Science and the Environment will be able to use day lockers during their time in class. Once your class period is over, you will need to remove all of your belongings.
What happens if a student exhibits COVID-19 symptoms on campus?
If students come to a class or lab on campus and begin experiencing possible symptoms of COVID-19, they will be asked to leave the class or lab immediately. Please do not come to campus, even if your symptoms are mild.
If you are asked to leave campus due to COVID-19 symptoms, you should go home immediately and answer the questions on the COVID-19 Screening Tool to determine if you need to contact Health Links for further assessment. You will be required to self-isolate for 14 days before returning to campus unless you test negative for COVID-19 before the two week period is complete.
University staff will follow up with you to check in on your wellbeing, offer support, and determine if you need or want to be referred to community resources. 
Staff and faculty will maintain confidentiality. That being said, names of students exhibiting possible symptoms of COVID-19 will be recorded in case contact tracing by Public Health becomes necessary.
We are committed to student wellness and will continue to provide respectful and responsive services to students and demonstrate a responsibility to the health of the wider community during and following the COVID-19 pandemic.
Do I need to wear a face mask when on-campus?
Yes. Beginning September 8, 2020, faculty, staff, and students will be expected to wear masks when occupying indoor public spaces — including classrooms, labs, study areas, washroom, lobbies, hallways, and student residence common areas.
Masks are not mandatory in individual office spaces, except when physical distancing is not possible.
Wearing a non-medical mask or face covering does help limit the spread of COVID-19, but needs to be worn properly to be effective. Public Health officials recommend that you wash your hands before and after you place the mask over your nose and mouth. While wearing the mask, avoid touching it or touching your face, and wash your hands if you do. 
Wearing a mask alone will not prevent the spread of COVID-19. You must consistently and strictly adhere to good hygiene and public health measures, including frequent hand washing and physical (social) distancing.
Watch this short video for tips on how to properly wear a non-medical face mask. 
How will I maintain physical distancing on campus elevators?
In order to maintain physical distancing, all campus elevators will have a limit to the number of occupants. The occupant limits are stated on signage located outside of the elevators.
How will I maintain physical distancing travelling through campus?
When travelling through campus is it important to "be polite and keep to the right". This is especially important in stairwells and hallways that can be a common congregation point. If everyone is able to stick to the right then physical distancing can be maintained except for brief exchanges.
The majority of buildings on campus have a counter-clockwise traffic flow. Look out for "one-way" floor decals to ensure that everyone is going in the same direction. Some hallways and stairways will only take you in one direction so be sure to keep on the look out for signage once you arrive on campus, and stick with traffic flow.
Throughout campus there will be "no gathering" posters. This is a reminder not gather in groups while attending classes on campus. It is important to remain mindful of our physical distancing protocols and to not gather in hallways. At this time, majority of student study areas will be closed.
How will I maintain physical distancing in my classroom?
Outside of each in use classroom and water fountains, there will be "feet". These are placed 2 meters (6 ft.) apart for the safety of students. Place your feet on the decal and wait until the one in front of you is empty, upon entering your classroom.
Classrooms tables and chairs will be marked with a "Sit Here" decal. This is in place so that students can remain safe and physically distance from other classmates. When arriving into the classroom please take a seat that is marked "Sit Here".
University of Winnipeg Safety Services has been working in accordance with guidelines set out by the Province of Manitoba and the Public Health Agency of Canada to prepare campus for a safe return to teaching and research.