Campus services FAQ
COVID-19 FAQ (Updated: June 12, 2020)
---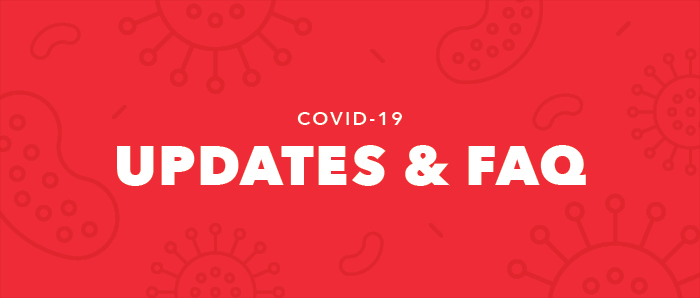 Is campus open?
As of 5:00 pm, Monday, March 23, all campus buildings will close until further notice. Access will be limited to those who are delivering essential services, such as security, physical plant, food services and residence staff. Other faculty and staff who need access to campus must be authorized by their department chair/dean or supervisor and check in with Security Services when coming to campus.
---
What campus services are available?
The Aboriginal Student Services Centre are working remotely and will be responding to emails: View their contact information. 
Academic and Career Services are currently working remotely, and will be happy to assist you via phone, video conferencing, or email. For more information please visit their website.
Awards and Financial Aid online/phone appointments can be made by emailing awards@uwinnipeg.ca or calling 204-786-9459. They will be monitoring messages between 8:30 am - 4:00 pm, Monday to Friday. Depending on call volume, phone messages may take up to two business days to respond. Visit the Awards website for info on open applications and external awards.
Campus mail delivery and pick-up is suspended during the campus closure, (with the exception of the RCFE building). Mail that would normally be delivered and picked up on campus can be picked up in the mailroom, located on the main floor of Centennial Hall, during regular business hours, Monday to Friday, 8:30 am – 12:00 noon, and 1:00 – 4:30 pm. If you are expecting an important delivery, or have any special requests, please contact Kevin Yumul at k.yumul@uwinnipeg.ca, to make arrangements.
The Campus Store is offering free shipping on all online orders, with no minimum purchase, and extending the non-return period without penalty. Please visit the Campus Store website for further updates.
Diversity Foods - is offering curbside service while its dining rooms closed, delivering fresh, local, sustainable food directly to the community. If you want fresh-made soups, a bowl of chili, some butter chicken, or ingredients from Diversity's kitchen — like a pound of Notre Dame butter, a bag of Natures Farm Pasta, or a dozen organic eggs — visit Diversity online and they will deliver it to you at the curb in front of your home.
Elements restaurant is open (as of June 1, 2020), Monday to Saturday, 11:00 am to 5:00 pm, with a limited take-out menu. Call 204-786-9237 to place your order.
The Human Rights and Diversity Office is working remotely. Please email s.belding@uwinnipeg.ca or call (204) 988-7508 if you wish to schedule an appointment or seek advice. 
International, Immigrant and Refugee Student Services (IIRSS) is no longer accepting in-person student appointments and drop-ins. Staff are working remotely and will be happy to assist you via phone or email, 8:30 am to 4:30pm, Monday to Friday. Email them at:iirss@uwinnipeg.ca.
Menno Simons College staff are working remotely. You can reach them at msc@uwinnipeg.ca.
Student Central is working remotely. To contact them, email studentcentral@uwinnipeg.ca. 
Uplink computer lab (4C32B). Visit Tech Sector's website for up-to-date information. If you have questions for the technology sector team, they are available 8:30 am to 4:30 pm, Monday through Friday, and can be reached by email: servicedesk@uwinnipeg.ca, by phone (204.786.9149), and via online request forms.  If you are phoning, please leave a voicemail.
The UWinnipeg Library services have been moved to alternate delivery and the physical library facility is now closed. Access to digital resources remains unaffected, and staff are working remotely to deliver most services online. Visit our Service Update Page to find out how the library is delivering services and for a complete list of the resources that are currently available. The Library will be extending material loans until September 15, 2020. Borrowers are encouraged to keep their materials, but books can still be returned to the book drop at the south entrance of Centennial Hall by checking in at the security booth. 
---
Where can I go for admissions information?
Go to our Future Student page to learn more about studying at The University of Winnipeg.
Admissions staff are working remotely. For more information, or to submit documents, email admissions@uwinnipeg.ca. They will respond between 8:30 am - 4:30 pm. When normal operations resume, they will be verifying emailed documents against the originals. If you are not a current high school student in Manitoba, please also mail your official transcripts.
International Admissions staff are working remotely. View the International Student FAQs for the answers to common questions. For more information, pr to submit documentation, email international.admissions@uwinnipeg.ca. 
Student Recruitment is connecting with prospective students, parents, and counsellors remotely. Campus tours and in-person meetings are suspended. To connect with a recruiter, call 204.786.9844 or email welcome@uwinnipeg.ca with your name, phone number, and reason for call.
---
What campus facilities are closed?
The Athletic Therapy Centre is closed. 
The Bill Wedlake Fitness Centre, Duckworth Centre, and RecPlex facilities are closed. View Recreation Services notice for full details.