Matt Dyce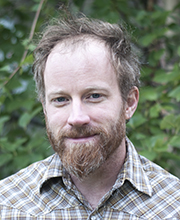 Title: Associate Professor
Phone: 204.786.9370
Office: 5L03
Building: Lockhart Hall
Email: m.dyce@uwinnipeg.ca
Teaching Areas:

Western Canada
Colonialism
Historical Geography
Cultural Geography
Environmental History
Courses:

GEOG-1102(3) Intro Human Geography I
GEOG-1103(3) Intro Human Geography II
GEOG-3415(3) Heritage, Tourism, and Conservation
GEOG-3445(3) Power / Knowledge / Geography
GEOG-3509(3) Canada's Physical & Human Environment
GEOG-3510(3) Prairie Landscapes
GEOG-4404(3) Political Ecology of Winnipeg
Research Interests:
Visual culture of photography and cartography.
Geovisualization and perceptions of environmental risk.
Archival objects and material knowledge.
Space, place, and public memory.
20th Century geographical thought.
Regions of Canada.
Publications:

Dyce, M. and J. Peyton. 2018. Magical regionalism: Canadian geography on screen in the 1950s. Papers in Canadian History and Environment 1. doi.org/10.25071/10315/34225.
Peyton, J, and M. Dyce. 2017. Colony on Main: History and the ruins of imperialism in Vancouver's restaurant frontier. cultural geographies 24(4): 589–609. doi.org/10.1177/1474474017723011.
Dyce, M. 2017. From above: Geographies of the aerial view. Journal of Historical Geography 56: 136–138. doi.org./10.1016/j.jhg.2016.12.002.
Dyce, M. 2016. Photography as theory in action: William Hanson Boorne, George Webber, and 'The People of the Blood'. Imaginations: Journal of Cross-Cultural Image Studies 7(1): doi.org/10.17742/IMAGE.NBW.7-1.10.
Dyce, M. 2014. How aerial photography altered the way we perceive environmental change Elsevier Connect. 
Dyce, M. 2013. Canada between the photograph and the map: Aerial photography, geographical vision and the state. Journal of Historical Geography 39: 69–84.
Dyce, M. 2013. The Gateway to the 'Last Great West': Spatial histories of the Athabasca Landing Trail. Canadian Historical Review 94(2): 177–206.
Dyce, M. and J. Opp. 2010. Visualizing space, race, and history in the North: Photographic narratives of the Athabasca-Mackenzie River Basin. In eds. S. Carter, A. Finkel and P. Fortna. The West and Beyond: New Perspectives on an Imagined Region. Edmonton, AB: Athabasca University Press: 65–93.