Geography
---
Welcome to the Department of Geography
This image of the earth, centred on the University of Winnipeg,displays the real time position of the circle of illumination, the boundary between day and night. (http://www.fourmilab.ch/earthview/)
Public Lecture
Regional Geography of Puerto Vallarta: A Human Geo Field Course in Mexico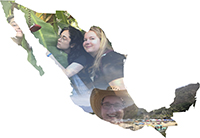 Interested in learning outside the classroom? Come hear about opportunities to learn in an applied setting through geography field courses. In May 2019, upper level geography students were given the chance to explore and learn about the Mexican city of Puerto Vallarta and the surrounding region. This course was a mixture of physical and human geography experienced on this trip. Through visiting artisanal fisheries and mangrove conservation centres to using photography as a tool to experience the impacts tourism has on the local population, this opportunity allowed us to learn about research within a cultural framework.
This lecture will be presented by three of the field trip participants: Catherine Goltz, Anya Ingram and Michael Kvern. Lecture will take place on Wednesday, October 23, 2019 from 12:30-1:20 pm in Room 4CM42.
Refreshments provided
Climate Atlas of Canada
A new Climate Atlas for Canada has been launched by the Prairie Climate Centre!
The Climate Atlas of Canada is an interactive tool for citizens, researchers, businesses, and community and political leaders to learn about climate change in Canada. It combines climate science, mapping and storytelling to bring the global issue of climate change closer to home, and is designed to inspire local, regional, and national action and solutions.
The Atlas explains what climate change is, how it affects Canada and what these changes mean in our communities.  Various aspects of climate change can be explored using maps, graphs and climate data for provinces, local regions and cities across the country. Plain-language description and analysis make climate science understandable and meaningful.