Geography
---
Welcome to the Department of Geography
This image of the earth, centred on the University of Winnipeg,displays the real time position of the circle of illumination, the boundary between day and night. (http://www.fourmilab.ch/earthview/)
GESA Eco-Grant
The Eco-Grant is an award of up to $2500 given out annually by GESA. Its goal is to support environmental stewardship within the University of Winnipeg community. It can be applied for by anyone with some affiliation with the university (ie. Students, Faculty, Alumni, etc.). The Eco-Grant is available to fund a wide range of potential opportunities that fall under three main categories:


Eco-Grant Sustainability Project: Initiatives that will promote sustainability on campus. Past projects have included rooftop gardens, plastic bag recycling, campus beehives and more. Apply here.
Eco-Grant Research Award: This can include any type of research in either the physical or social sciences that will in some way promote environmental sustainability. Grant money could be used to cover an array of potential research costs such as student salary, equipment/supply purchases, etc. Apply here.
Eco-Grant Travel Award: Student or graduate travel to relevant conferences or other professional development events that will equip the applicant to make subsequent contributions to environmental sustainability. Apply here.

Questions and inquiries may be sent to gesastudents@gmail.com. The application deadline is February 7, 2020.
Montreal Field Research in Urban Geography Course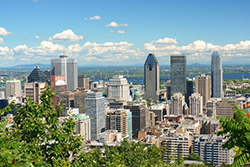 Students intereseted in participating in GEOG 4404/3 Montreal Field Research in Urban Geography can register for Spring Session 2020. Instructors for the course are Marc Vachon (Geography) and Sarah Zell (IUS). For more information about the course, contact Marc Vachon.
Climate Atlas of Canada
A new Climate Atlas for Canada has been launched by the Prairie Climate Centre!
The Climate Atlas of Canada is an interactive tool for citizens, researchers, businesses, and community and political leaders to learn about climate change in Canada. It combines climate science, mapping and storytelling to bring the global issue of climate change closer to home, and is designed to inspire local, regional, and national action and solutions.
The Atlas explains what climate change is, how it affects Canada and what these changes mean in our communities.  Various aspects of climate change can be explored using maps, graphs and climate data for provinces, local regions and cities across the country. Plain-language description and analysis make climate science understandable and meaningful.