Theatre and Film
Features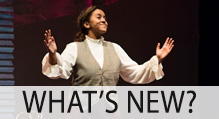 Faculty, Staff & Students Making Things Happen
Stay tuned for updates about the exciting creative and academic work our people are making.
Welcome to the Department of Theatre and Film! 
See the list of UPDATED 2023-24 THFM courses here. 
Are you planning to train for a career in theatre or film? 
Do you want your liberal arts degree to be exciting, practical and collaborative, and to prepare you for a wide range of careers? 
Do you have a hunger to have theatre or filmmaking as a "teachable" as you work on your Education degree? 
Are you just looking to take a theatre course or two to improve your presentation skills, build confidence, and complement your other studies?
Whether you're interested in being onstage, backstage, or behind the camera, the Department of Theatre and Film at UofW can offer you all this and more. Our faculty of working professionals has established our reputation as the go-to centre in Manitoba for training in the practical aspects of making both theatre and film.  Our graduates are resourceful, knowledgeable, and daring and are able to work comfortably in a wide range of professions.  You only need to look at the program or credits for a play or film/tv project happening in Manitoba to see a long list of our graduates - proof positive that Theatre and Film at UofW will see to it that you are prepared.
We offer a 3-Year General BA in all streams, a 4-Year Honours BA in most streams, and a Minor.  Have a look at the menu on the left to learn more about degree studies in Filmmaking, Acting, Theatre Production and Stage Management, Directing, Playwriting, Design, and Drama in Education, and our joint Dance Program with the School of Contemporary Dancers.
Wondering what you can do with a degree in Film or Theatre? The possibilities are endless! 
Just want to take a course or two? Explore what Theatre and Film can offer!
Have a few more questions? See our FAQ or contact our office at thfm@uwinnipeg.ca!