About Dance
This is a joint program between The University of Winnipeg and the renowned School of Contemporary Dancers in Winnipeg. It offers an intensive education in contemporary dance technique and performance in preparation for a professional career in dance.  
Contemporary dance encompasses an exciting and eclectic range of performance styles. It is at the forefront of experimental work in the performing arts. Vital professional companies and a small number of excellent schools are spread throughout North and South America, Europe, and other areas of the world. Graduates of our program join this tradition working as dancers, choreographers, teachers, and artistic directors throughout Canada and beyond.
This joint program offers the advantages of concentrated, conservatory-style dance training teamed with a liberal arts education. Courses at The School of Contemporary Dancers uniquely prepare students for a professional career in contemporary dance. Courses at The University of Winnipeg develop students who are flexible and multi-talented, have learned a number of different job skills and technological solutions, can adapt to change, can think critically and analyze effectively, can speak and write clearly, and can be counted on to find creative and innovative solutions to problems.  This combination of technique and artistry in dance, together with a broad-based university education, is designed to prepare students to be performers and artists of wide-ranging and deep perceptiveness.  
Each year, students gain extensive performance experience through activities including two public series, special projects, and a tour of Winnipeg-area schools. The School of Contemporary Dancers is one of a small number of institutions to be recognized by the Federal Department of Canadian Heritage as a nationally essential centre for arts training.
This program leads to a Bachelor of Arts degree (3-year or Honours) with a Major in Dance.
SAMPLE CAREERS
The Program has enjoyed a high degree of acclaim and success; almost all graduates attain professional work as contemporary dance performers.  Many graduates have performed with various Canadian and international contemporary dance companies including: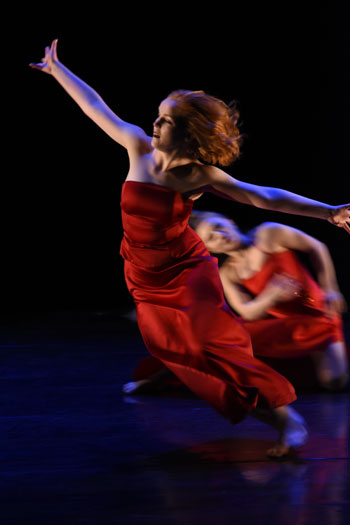 Winnipeg's Contemporary Dancers (Winnipeg), Gearshifting Performance Works (Winnipeg), NAfro Dance Productions (Winnipeg), Q Dance (Winnipeg), Stephanie Ballard and Dancers (Winnipeg), Mouvement/Winnipeg Dance Projects (Winnipeg), Odette Heyn-Projects and the Winnipeg Symphony Orchestra (Winnipeg), Company Link (Winnipeg), SOS Dance (Victoria), Mascall Dance (Vancouver), EDAM (Vancouver), Cavalia (Vancouver), Dancers' Studio West (Calgary), Good Women Dance Collective (Edmonton), New Dance Horizons (Regina), Toronto Dance Theatre (Toronto), Red Sky Performance (Toronto), Kaha:wi Dance Theatre (Toronto), Stand Up Dance (Toronto), Ten Gates Dancing (Ottawa), Compagnie Marie Chouinard (Montréal), Sylvain Émard Danse (Montréal), Sinha Danse (Montréal), le fils d'Adrien danse (Quebec City), Mocean Dance (Halifax), Cirque du Soleil (Las Vegas), Roberto Mosquedo (Leon, Mexico), Colectivo 1.618 (Leon, Mexico), @tendance/C.Medina (Austria).  As well as performing, graduates are working as choreographers, artistic directors, teachers and arts administrators.
Photo Credit: Rodney S Braun   Choreographer: Gaile Petursson-Hiley
SAMPLE COURSES
Dance Technique I is comprised of daily studio classes in the techniques of contemporary dance and ballet. The course focuses on the refinement of technique and artistic development.
Performance I is a performance project focusing on works by faculty members and/or guest choreographers. It includes rehearsals and performances.
Dance Composition I, normally taken in third year, explores methods of choreography and includes choreographic assignments culminating in public performances.
Dance Pedagogy I explores methods of teaching in creative dance, ballet, and contemporary dance at the elementary level and offers studio experience in teaching and/or assistant teaching. It is normally taken during the second or third year.
SAMPLE FIRST YEAR
NOTE: This sample first year is representative of the courses you may take. For many of our programs, you may choose another set of courses and still be well on your way to a degree. Also, for most programs you do not have to take 30 credit hours (five full courses) in your first year.
Compulsory: DANC-1901(3) Survey of Dance I, DANC-2901(6) Dance Technique I
Recommended:
THFM-1001(6) Introduction to Theatre: Performance
RHET-1101(3) Academic Writing: Humanities or any other section of Academic Writing (if required)
2 credit-hours intensive course offered by the Department of Theatre and Film (THFM) each year (TBA)
REQUIRED HIGH SCHOOL COURSES
Students must meet the general admission requirements. No specific courses are required.
JOINT ADMISSION
In order to enrol in this program, students must be admitted to BOTH The School of Contemporary Dancers: Senior Professional Program AND The University of Winnipeg.
HOW TO APPLY – The School of Contemporary Dancers:
Admission to The School of Contemporary Dancers is by audition. Applicants should be at an intermediate level of training in classical ballet and/or contemporary dance and show professional potential for contemporary dance. Upon entry, students are placed according to their level of technique and performance. Most students are placed in First Year; however, sufficiently advanced students may enter the program at the Second-Year level. Please contact Charlene Kulbaba at 204.452.1239 for more information or to book an audition.
HOW TO APPLY – The University of Winnipeg
To find out more information on application requirements, deadlines, and to access the application, please visit uwinnipeg.ca/apply.