Serena Keshavjee
History
---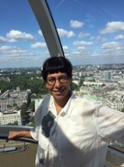 Title: Professor
Office: 3A20
Building: Ashdown
Phone: 204-258-2993
Email: s.keshavjee@uwinnipeg.ca
Courses:


HIST-2800: European Art HIST-2804: Secrets of Museums
HIST-3809: Nineteenth Century Art in Context
HIST-3810: 20th Century Art
HIST-3829: Modern Architecture and Design
HIST-4802: Fin-de-Siècle Art and Architecture (1880-1914)
Research Interests:

Fin-de-Siècle science and Symbolist art; Modernist Canadian art, architecture, and design.
Links
www.winnipegfreepress.com/citybeautiful
Publications:

"Science and the Visual Culture of Spiritualism: Camille Flammarion and the Symbolists in fin-de-siècle France," Occulture, Special Issue of Aries, guest-edited by Tessel Bauduin and Nina Kokkinen (Volume 13, Number 1, 2013): 37-69.
"Natural History, Cultural History, and the Art History of Elie Faure," Nineteenth Century Art Worldwide (vol 8, issue 2, Autumn 2009)
Editor, Canadian Art Review (RACAR) Special issue on "Science, Symbolism and Fin-de-Siècle Visual Culture." (no.34, vol.1, 2009). Editor. Winnipeg Modern Architecture: 1945-1975. Winnipeg: University of Manitoba Press, 2006.
"The Enactment of the Supernatural in Fin-de-Siècle France Art and Culture", in Inversions (2006) Edited by Dr. Jennifer Fisher, York University.
"The Scientization of Spirituality." In Seductive Surfaces: The Art of Tissot. Ed. Katherine Lochnan. Vol. 6, Studies in British Art. London: Yale University Press, 1999.