Faculty of Science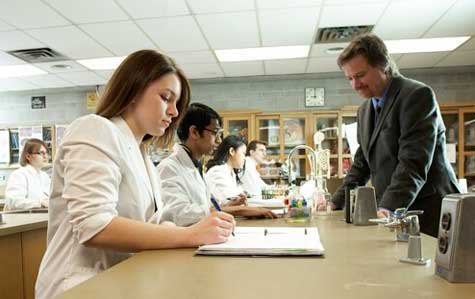 A science degree can open up doors to employment, graduate programs, or professional studies in dentistry, medicine, optometry, or veterinary medicine. Students choose the Faculty of Science at The University of Winnipeg for our small class sizes, award-winning professors, access to labs, research opportunities and reputation for excellence. The Faculty of Science offers unique and diverse programs that give you the opportunity to study innovative ideas, conduct research, hypothesize, and expand your understanding of the world.
---
Anthropology
Anthropologists study the evolution of humankind by examining how humans have developed and adapted, both culturally and physically, to the world around them. Anthropology specializes in cultural anthropology, archaeology or physical anthropology, or you may choose an integrated program that includes all three areas. Practical experience is also available through the Archaeological Field School.
Anthropology Factsheet [PDF] | Anthropology Website
Applied Computer Science
This program focuses on the theory and application of computing in business and scientific environments. Applied Computer Science combines core subjects and in-depth applied studies gives you the freedom to combine your interests in computing with other subjects of study and application.
Applied Computer Science Factsheet [PDF] | Applied Computer Science Website
Bioanthropology
Combining aspects of anthropology with biological and physical sciences, Bioanthropology program teaches you to examine human biological systems of the past and present. You'll gain understanding of comparative anatomy, cellular biology, and methods in human and primate evolution as you obtain experience in current laboratory techniques and procedures.
Bioanthropology Factsheet [PDF] | Bioanthropology Website
Biochemistry
This degree investigates living systems by combining the knowledge and methodologies of biochemistry, cell biology, genetics, and microbiology with those of the physical sciences. A degree in Biochemistry will prepare you for work in various industries, or for admission to professional schools in the health sciences.
Biochemistry Factsheet [PDF] | Biochemistry Website
Biology
Biology is the study of any form of life, from the DNA molecule to the interactions of organisms within various ecosystems. You can specialize in botany, zoology, microbiology, ecology, genetics, or molecular biology. Courses will prepare you for a career in laboratories, research, pharmaceuticals, as well as conservation and wildlife management.
Biology Factsheet [PDF] | Biology Website
Chemistry
Chemistry is the essential science to the building blocks of life. It spans all aspects of our lives, from our health and nutrition to our scientific discoveries and management of an environmentally sustainable world. A degree in this "central science" can take you anywhere, allowing you to specialize in analytical chemistry, biochemistry, inorganic chemistry, organic chemistry, or physical chemistry.
Chemistry Factsheet [PDF] | Chemistry Website
Environmental Studies and Sciences
Are you interested in issues affecting our environment? Environmental Studies and Sciences combines many different perspectives to understand the changes in our environment, while acknowledging human impacts and providing a framework to develop solutions for environmental programs. You can choose your course of study from six different subject areas including Chemistry, Forest Ecology, Forest Policy and Management, Global Environmental Systems, Issues in Sustainability, and Urban Environments.
Environmental Studies and Sciences BSc Factsheet [PDF] | Environmental Studies BA Factsheet [PDF] |Environmental Studies and Sciences Website
Geography
Expand your understanding of our planet, and interactions between the land and its people. In Geography, you'll explore local, regional and international systems, climate change, and urban and community development. You'll learn about geographical patterns and landscapes while participating in lab experiments, seminars and field trips.
Geography Factsheet [PDF] | Geography Website
Note:  The Geographic Information Systems (GIS) joint program with RRC Polytech has been discontinued. 
Mathematics
Studying Mathematics will develop your ability to work with numbers, shapes and figures, and to reason in a logical manner. Courses include algebra, statistics, calculus, combinatorics, discrete mathematics and more. You'll have the opportunity to work with researchers to apply your skills and receive hands-on experience.
Mathematics Factsheet [PDF] | Mathematics and Statistics Website
Neuroscience (formerly Biopsychology)

How do the brain and nervous system control behaviour? This program provides you with an understanding of the integrated relationship between biology and psychology. In Neuroscience, you'll develop a strong understanding of the structure and function of the nervous system as you explore the relationship between the nervous system and behaviour.
Neuroscience Factsheet [PDF] | Neuroscience Website
Physics
The study of nature at its most fundamental level offers the opportunity to explore phenomena at all levels – from the world of the atom to the reaches of the universe. In our nationally recognized Physics department, you'll study the nature of diamonds and semiconductors, the inner workings of the nucleus, and the use of magnetic resonance imaging (MRI) in diagnosing disease. You'll imagine, deduce, and investigate the inner workings of black holes, hot space, chaos, and quantum gravity.
Physics Factsheet [PDF] | Physics Website
Physics - Medical Physics
A stream of the Physics program at The University of Winnipeg, Medical Physics is the application of physics to medicine, such as in medical imaging and radiotherapy. This stream was developed in collaboration with CancerCare Manitoba. It is intended to prepare students to enter graduate school in Medical Physics.
Medical Physics Factsheet [PDF] | Physics Website
Physics - Computational Physics
Physicists have always played a leading role in the development of new computing hardware and methods – from the transistor to the internet to the quantum computer.  Computational physics is the study of physics using computational methods.  It is an expanding field that combines computer science, physics, and applied mathematics to solve complex problems.
Computational Physics [PDF] | Physics Website
Psychiatric Nursing
If you are interested in the mental health of individuals, families, groups and communities, you may choose to enrol in the Psychiatric Nursing degree program through Brandon University. Upon completion, you'll be a Registered Psychiatric Nurse (RPN) and find work in government, health care facilities, corrections, and community services.
Radiation Therapy
Radiation Therapy involves the use of radiation to treat cancer cells in the body.  This program includes significant practical training and experience.  It was developed in collaboration with CancerCare Manitoba.
Radiation Therapy Factsheet [PDF] | School of Radiation Therapy at CancerCare Manitoba Website
Statistics
Today's society is bombarded with information. The Internet, politicians and the media are constantly citing numbers, ratios and percentages to bolster points of view. Statistics offers the tools to understand this language through rational decision-making. You'll take courses in statistical analysis, survey sampling and operations research, while learning tools for application in business, computing and government.
Statistics Factsheet [PDF] | Mathematics and Statistics Website