Zoom Q&A with Carly Watters (Senior Literary Agent, P.S. Literary)
Tue. Sep. 13, 2022
In 2022-23, the Department of English is hosting a Publishing Speaker Series that will feature exciting industry professionals and authors who will share insider knowledge on breaking into the field of creative writing.
Our first event will be held on Thursday, October 6 at 12:30 PM with literary agent Carly Watters. The event is a Zoom Q&A and will be hosted by the Lindsay Wong (Department of English, University of Winnipeg).
Carly Watters is a SVP and Senior Literary Agent at P.S. Literary and the sitting VP of PACLA, the Professional Association of Canadian Literary Agents.
Watters has a BA in English Literature from Queen's University and a MA in Publishing Studies from City University London. Her master's thesis was on the social, political, and economic impact of literary prizes on trade publishing. She began her publishing career in London as an assistant at the Darley Anderson Literary, TV and Film Agency. Watters joined Toronto-based P.S. Literary Agency in 2010 and has sold over 100 books during her career. She represents award-winning and bestselling authors in the adult fiction and non-fiction categories, and select children's books.
Watters is known for her long-term vision for her authors and being an excellent collaborator with a nose for commercial success. She has close ties to publishers in the major markets, is a member of the AALA, and works directly with film agents to option film and TV rights to leading networks and production companies. Her clients' books have been translated into 40 languages, optioned for TV and film, adapted into podcasts, and have been on every bestseller list from coast to coast, including the New York Times, USA Today, the LA Times, the Washington Post, the Toronto Star, and the Globe and Mail. Watters is also an annual judge for the Women's Fiction Writing Association Rising Star Award.
The popular writing podcast The Shit No One Tells You About Writing, for which Watters is the co-host, has over 700,000 downloads.
This is a free event that is open to the public.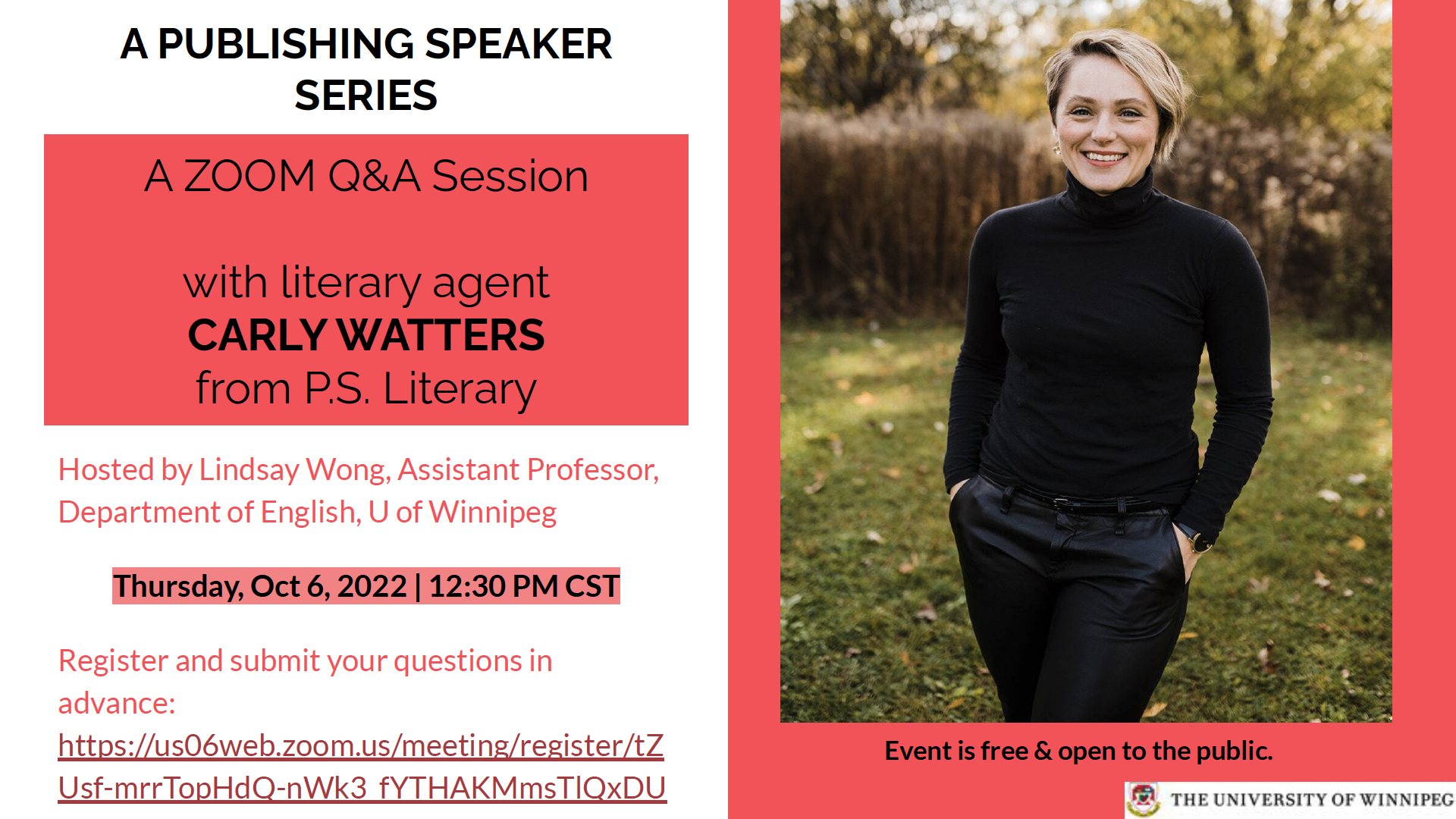 You can register and submit your questions here: 
https://us06web.zoom.us/meeting/register/tZUsf-mrrTopHdQ-nWk3_fYTHAKMmsTlQxDU