Carol Shields Writer-in-Residence Program
---
The 2023-24 Carol Shields Writer-in-Residence will be announced in Fall 2023.
---
About The Carol Shields Writer-in-Residence Program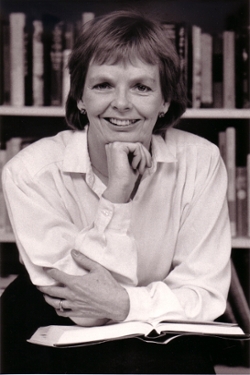 The Carol Shields Writer-in-Residence Program at the University of Winnipeg was made possible by a generous donation from the Shields family. The program's name honours the memory of Carol Shields, Pulitzer-prize winning novelist and Chancellor of the University of Winnipeg from 1996 to 2000. At Convocations, our students and their families were privileged to hear her wise and beautifully-crafted addresses to the graduands. Carol was also a generous mentor to emerging writers, so this program is a fitting tribute to her. As former UW President Dr. Lloyd Axworthy has said, "Carol was enormously committed to cultivating young writers. Through the thoughtfulness and generosity that the Shields family has shown to the University, opportunities have been created for many more people and emerging writers to discover their creative voices." (photo courtesy of the family).
---
Past Carol Shields Writers-in-Residence:
2023 Zoe Whittall
2022 Jordan Scott
2020 GMB Chomichuk
2019 Garry Thomas Morse
2018 Méira Cook
2017 Katherena Vermette
2016 Rick Chafe
2015 Jennifer Still
2014 Chandra Mayor
2013 Gregory Scofield
2012 Debbie Paterson
2011 Ivan Coyote
2010 David Bergen
2009 Maria Campbell
2008 John Weier
2007 Sandra Birdsell
2006 Margaret Sweatman
---
Friends of Carol Shields Celebrate Writer in Residence Program
On November 22, 2012, the English Department, in collaboration with the University of Winnipeg Foundation, held a Reception for the Friends of Carol Shields Writer-in-Residence Program. Carol was so well-loved and had touched so many, the evening was a great success with over fifty guests making their way to Convocation Hall on the first snowy Winnipeg night of the season. Thank you to all who attended for sharing stories about Carol as well as plans for the future of the Residency.
If you would like to become a Friend of the Program by making a donation please click here.