Asking the What Ifs About the World: Notes from the Classroom with Ifeoluwa Adeniyi
Wed. Oct. 20, 2021
Ifeoluwa Adeniyi is a new faculty member in the Department of English, bringing her expertise in creative writing, African literatures, African/Black diaspora literatures, Afrofuturism/Black speculative fiction, and Black women's writing to the university and its classrooms. Her novel, On the Bank of the River, was published in 2015, and she has a background in media, having worked as a radio presenter in Nigeria. We sat down with Ifeoluwa to hear about her teaching, and to learn how her research shapes her classes.
Can you tell us a little bit about one of the classes you're teaching right now?
I am teaching a section of the first-year "Reading to Write" course with a focus on speculative fiction. The course explores the art of speculative prose writing and asks questions about what it means to imagine speculatively, about the craft of writing speculative stories, the strategies and methods used by writers to create speculative fiction, and the assumptions and rationales for doing speculative writing. We follow the view that speculative fiction asks what if about the world unlike the traditional social realist fiction that's concerned with what is. To ask what if about the world is an invitation to imagine a world where nothing is impossible. I like that prospect. In my first class, I had the students write about their expectations for the course. Many of the responses orbited around learning the strategies that writers have used in the creation of what-if stories and how they can deploy those skills when writing their own stories. I find it fascinating that one of my students is writing a speculative novel and that there are students who have never written any creative prose and they believe they can achieve that feat by taking my class.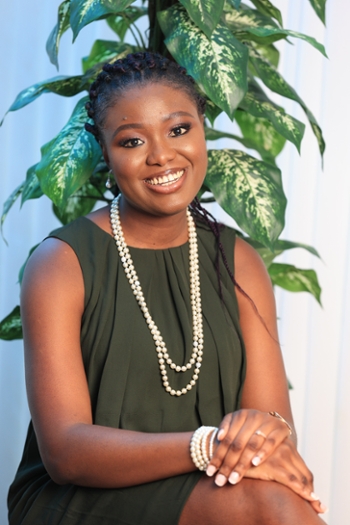 Does this class connect to your research/writing interests?
Yes, it does. My ongoing PhD dissertation research on the Afrofuturist works by female writers was a major influence of my Reading to Write course. Some of the texts we are reading in the course such as Nalo Hopkinson's novel Brown Girl in the Ring, Lesley Nneka Arimah's short story "Who Will Greet You at Home" are texts I am writing my dissertation on. I love that in our class interactions there are new insights about these texts. I also love that the students, many of whom have not read these authors previously, are now aware of an emergent field of Black Female Speculative Fiction that is concerned with envisioning a future world with Black people and women as important members.

Can you talk about one particular text you're reading with students and why you included it on your syllabus?
I already mentioned some of the speculative fictions we're reading in my Reading to Write course; e.g., Hopkinson's Brown Girl in the Ring, and Arimah's "Who Will Greet You at Home." Perhaps it's better to turn to another course I'm teaching: Introduction to Creative Writing. It's an introductory course on short prose and poetry. I designed the course to get students to think, imagine, and construct stories and poems strategically, and to be mindful and intentional about writing techniques and approaches. The story that seemed to generate the most discussion so far in this course is "Cat Person" by Kristen Roupenian. I like the story because it still generates the kinds of conversations that it did when it was first published in 2017. I like the fact that the story asks deep questions about sexual consent and dating. The kind of nuance Roupenian's story allows are fascinating and I wanted my students to consider the strategies of these allowances. I must also mention that my students are reading Louise Erdrich's short story "The Stone" which is a coming-of-age story of a girl who develops a connection with a stone that she finds one summer (I say that cautiously because if one reads deeply into the text, one can argue that the stone finds the girl and not the other way). The girl's relationship with the stone turns out to be the most enduring relationship she'd ever have. It is not a story that reveals its complex meanings directly and it helped the class to embark on serious exercises in metaphorical thinking.

Can you describe a classroom exercise or discussion you've had that has been particularly interesting?
Most times when we're discussing a new work, I begin by providing the opening plot of the story in a sentence or two. I then invite students to take turns to continue the narration to the end. Each person continues the narration from where another ends. All done in one or two sentences, depending on the length of the story. That way, the class sort of summarizes the story and those who previously thought the story wasn't enjoyable when they read it privately at first often came to enjoy and engage with the story differently. It's a collaborative class exercise meant to get everyone involved and attentive to the discussion about to begin on a particular story. I think it also helps the class to listen and participate in a summary of the story in different and multiple voices.

What would you say to a student who might be considering taking a class like this in the future?
My classes are by design and intent creative. A creative class is a very interesting one. I design them with a mind to help students to hone their creative skills and experience the joy of creating art. It's a very human thing to do. So, take my classes if you desire to develop your creative, critical and imaginative skills, and connect to something deep and complex about the world shared in literatures.