Carla Manfredi Publishes Robert Louis Stevenson's Pacific Impressions
Fri. Dec. 14, 2018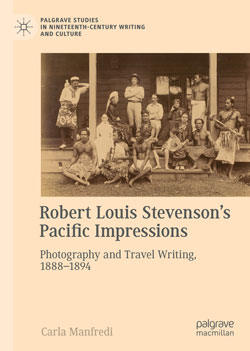 Dr. Carla Manfredi recently published a scholarly monograph, Robert Louis Stevenson's Pacific Impressions: Photography and Travel Writing 1888-1894 with Palgrave. We asked her a few questions about the project.
Q: Can you tell us about the idea for this book and how it came about?
"The idea for this book originated when I was writing a paper for an MA seminar on Victorian travel writing. I was writing on Robert Louis Stevenson's Pacific novella "The Beach of Falesa" and came across a footnote in a work of scholarship referring to Stevenson's photographs. I wanted to know more about these images but there was very little information available. I felt that it was a lacuna I could possibly begin to fill. I never imagined that it was an idea that would be such a long term project that would take me to such fabulous destinations (Scotland, Hawai'i, California). I guess the lesson to learn is to always read the footnotes!"
Q: What kinds of research did you undertake, and were there any challenges or surprises?
"The two aspects of the research that I could not have anticipated were the photography and the archival work. Since I chose to work on the intersections of Victorian literature and colonial photography, a lot of my doctoral work was spent developing a sub-specialty in nineteenth-century photography and contemporary photography theory. Luckily, my PhD advisor (Dr. Chris Bongie) was able and willing to help me through the process. Every chapter in the book reflects my time spent in various archives. I was never taught (as an undergraduate or graduate student) what archival research involved, but I think it drives my overall approach to literary study. I actually find working in archives to be a very creative process: finding relationships between seemingly disparate documents that are sometimes separated by oceans! "
Q: Do you have any advice for other researchers about the process of writing and publishing a book?
"My advice for the writing process is to write as regularly as possible, even if it's just a couple of hundred words. Personally, I don't think our teaching and research can be entirely divorced. If I stop writing for too long then I lose my momentum and focus. I also think that having friends and colleagues read my work is crucial. I have an academic spouse who has combed through every word of the book more times than I can count. The index was certainly an intense collaboration!"
Q: What will you be working on next?
"My next research project will stay focused on the Pacific, but will address the American author Jack London. I'll be presenting a paper on London's representation of Pacific
plantations at the 2019 Nineteenth-Century Studies Association. I look forward to spending more time in the archives!"
Dr. Manfredi received her PhD in 2014 from Queen's University and then held a SSHRC Postdoctoral Fellowship in the Department of History at the University of Hawai'i. While her main area of research focuses on 19th century Euro-American representations of the Pacific Islands, she is also interested in the relationship between colonial fiction and "slum fiction."