Tom Soares
Theatre and Film
---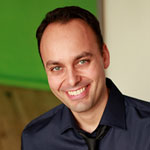 Title: Instructor
Office: 4T06
Building: Asper Centre for Theatre and Film
Phone: 204.258-3811
Email: to.soares@uwinnipeg.ca
Biography:

Tom Soares is a Winnipeg-based actor, voice specialist, coach and theatre educator. He has worked as an actor or coach for several local theatre companies, including: The Royal Manitoba Theatre Centre, Prairie Theatre Exchange, Manitoba Theatre for Young People, Rainbow Stage, Shakespeare In The Ruins, Theatre Projects Manitoba, Dry Cold Productions, Sarasavati  Productions and Winnipeg Jewish Theatre.  
Tom has taught acting and voice for The Globe Theatre's Conservatory (Regina) and York University, as well as voice for Prairie Theatre Exchange and Actors' Training Centre of Manitoba and he often teaches workshops and courses in Winnipeg.  Tom has taught introductory acting as well as introductory to senior level courses in voice for the University of Winnipeg.
As an instructor of acting and voice, Tom has a keen interest in how the voice and body work together in the act of performance.  
Privately, Tom coaches and teaches public speaking and presentation skills one-on-one and in custom workshops.  He has worked for such companies as CTV News Winnipeg, The Civil Service Commission and The Winnipeg School Division.
He holds an MFA in Acting, with further specialization in Voice from York University and  a B.A Hons. from the University of Winnipeg.      
Photo Credit: David Spowart