Shannon Vickers
Theatre and Film
---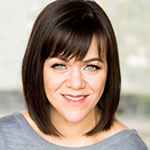 Title: Professor
Office: 4T10
Building: Asper Centre for Theatre and Film
Phone: 204.786-9287
Email: s.vickers@uwinnipeg.ca
Biography:

Shannon Vickers is a Professor in the Department of Theatre and Film where she teaches Voice, Speech, and Text. She has served as a Text, Voice, and/or Accent Coach for theatres across Canada.
Shannon earned an MFA in Theatre Voice Pedagogy (University of Alberta) and a BFA Honours Acting (University of Windsor) and is a certified Associate Teacher of Knight-Thompson Speechwork.
Shannon is an active member of VASTA (Voice and Speech Trainers Association).
In March 2021 Professor Vickers was recognized with a Dudley Knight Award for Outstanding Vocal Scholarship for her recently published paper Accent and Language Training for the Indigenous Performer: Results of Four Focus Groups.
Please see the full article, including a link to the award-winning paper, here.
Contact Professor Vickers at: (204) 786-9287; E-mail: s.vickers@uwinnipeg.ca