Christopher Brauer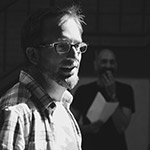 Title: Associate Professor
Phone: 204-786-9006
Office: 3T12
Building: Asper Centre for Theatre and Film
Email: c.brauer@uwinnipeg.ca
Degrees:

B.A. (Hons) in Drama and English – University of Toronto & MFA Acting – York University
Biography:

Christopher Brauer is an Associate Professor in the Department of Theatre and Film. His creative work focuses on directing plays and on text coaching classical productions. He teaches courses in acting and directing. His actor training methodology incorporates the techniques of Canadian clown innovator Richard Pochinko.
Teaching Areas:

Introduction to Acting, Advanced Scene Study, Character Embodiment, Audition Technique, Performing Shakespeare, Approaches to Directing, Advanced Directing.
Courses:

THFM 4141-001 Acting IV Honours: Style & Genre
Publications:

My publications take the form of productions I have directed or text-coached:
Selected Directing:
Twelfth Night by William Shakespeare - Shakespeare in the Ruins
The Three Musketeers by Catherine Bush - Royal Manitoba Theatre Centre
Kiss of the Spider Woman by John Kander and Fred Ebb - Dry Cold Productions
John by Annie Baker – Royal Manitoba Theatre Centre
Venus in Fur by David Ives – Royal Manitoba Theatre Centre
Am I Not King: the last concert of Richard II by William Shakespeare, Christopher Brauer, Tom Keenan, Matt Powers & Royal Canoe – zone41 theatre
The Three Sisters by Bruce McManus (adapted from Chekhov) – zone41 theatre
The Moonlight Sonata of Beethoven Blatz by Armin Wiebe – The Station Arts Centre
Richard III by William Shakespeare – Shakespeare in the Ruins
Othello by William Shakespeare – Shakespeare in the Ruins
Angels in America: Millennium Approaches & Perestroika by Tony Kushner – Winnipeg Jewish Theatre
Winter's Tale by William Shakespeare – Tom Tom Theatre
Text Coaching:
Much Ado About Nothing by William Shakespeare – Shakespeare in the Ruins
Timon of Athens by William Shakespeare – Shakespeare in the Ruins
Anthony and Cleopatra by William Shakespeare – Shakespeare in the Ruins
Julius Caesar by William Shakespeare – Shakespeare in the Ruins
Henry V by William Shakespeare – Shakespeare in the Ruins
Henry IV 1 & 2 by William Shakespeare – Shakespeare in the Ruins
Taming of the Shrew by William Shakespeare – Shakespeare in the Ruins
The Merchant of Venice by William Shakespeare – Shakespeare in the Ruins