Forwarding Emails
To set your Nexus e-mail to forward a copy of all incoming messages to an external address, in your Email Settings:
From the Inbox, click "Settings". The Email Settings page opens.




In Email Settings, under the heading "Forwarding Options":

a) Check off the box next to "Forward incoming messages to an alternate email account".
b) Enter the e-mail address of the external account in the field provided. Your UW student Webmail account will be entered in the field by default.
c) Select an action to be completed after the e-mail is forwarded.


Save" button.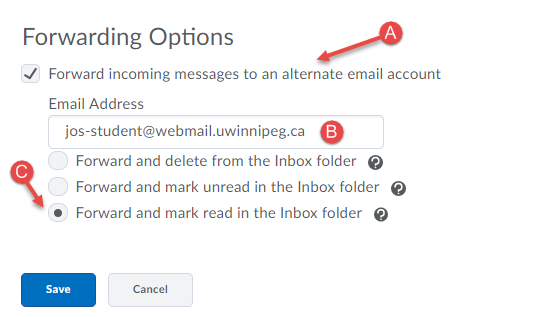 NOTE: The above Forwarding Options allow you to forward received Nexus mail to another e-mail account, but keep in mind that:
Not all mail may forward successfully and

You must return to Nexus e-mail to reply to Nexus messages, even though you may have viewed a forwarded copy of the message, or a notification about the message, elsewhere.

E-mails sent from external (non-@nexus.uwinnipeg.ca addresses) to @nexus.uwinnipeg.ca e-mail addresses will be rejected by the e-mail server and will not be received by the recipient.