Course Home Page
When you click on the name of a Course in the My Courses widget or the Minibar, it opens the Course Home Page. On this page, you can access all of the course tools, materials, and more.

1.

Click My Home in the Minibar or the Nexus logo to return to the My Home page.
2. 

Use the Course Selector menu to return to the Course Home Page or easily access other courses.

3. Commonly used course tools can be accessed through the Course Navbar. The specific tools and links available in each Course Navbar may vary from class to class.
4. Use the Locker tool to upload and store files in Nexus. Locker enables you to upload files from your PC, or to create new HTML files. Files in your personal Locker are kept private.
5. Course Announcements appear on each Course Home Page and may show only the most recent news items. Click Show All News Items to see more.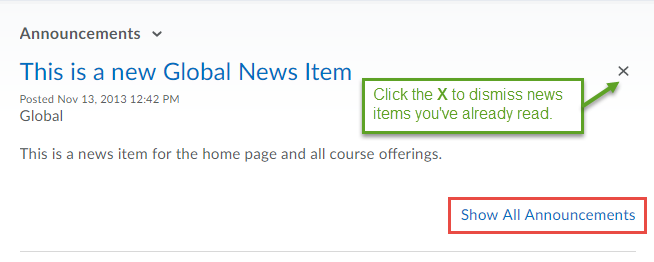 6. The Updates widget shows notifications of unread and new items from the course you are viewing.
7. The Calendar highlights due dates and other important tasks related to assignments and events for the course you are viewing. While the widget will only show the events for the course you are viewing, you can open the Calendar to see events for all of your current courses at once. Upcoming Events displays upcoming calendar items for the course you are viewing. Use this to stay up to date on important events and course activities.