University of Winnipeg Political Science Students' Association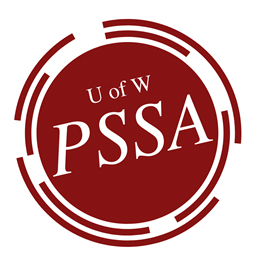 The University of Winnipeg Student's Association (UWSA)
Political Science Students Association (PSSA)
TERMS OF REFERENCE

The Political Science Students Association is a registered student group with the University of Winnipeg Students Association (UWSA). We bring together Political Science students within the university community through social and political events, both on and off campus. Furthermore, we organize a variety of exciting events throughout the year. Joining us is a great way to connect with new people! Our events provide participants with the opportunity to gain new skills and experiences. The PSSA fosters for Political Science students a non-partisan, ongoing discourse on politics, be it local or global.

Anyone with an interest in Political Science at the University of Winnipeg is welcome to participate in  events and activities organized by our group. We pride ourselves on being open to anyone with a genuine interest in politics and who wishes to become involved in some capacity. We especially encourage membership for all Political Science students, as a way to connect and to network with one another.


Meetings:

Our meetings are held during the Free Period (12:30-1:30) on Mondays or Fridays, about once or twice a month; the meeting schedule may vary. All meetings are currently held online due to the still-uncertain COVID-19 situation. Please follow our social media accounts or contact us for information on upcoming meetings. We are looking forward to seeing you at our next meeting.

Social Media, Email, and Slack Server:

 
PSSA Executive Roles and Duties: Positions are variable and fluid in nature[1]
President:
Representing the PSSA to University of Winnipeg students and faculty

Liaison between PSSA and Political Science department (usually the Department Chair)

Chairing meetings and events

Delegating tasks to other members

Assisting other Executive members as needed
Vice-President:
Representing the PSSA to University of Winnipeg students and faculty

Assisting the President whenever necessary

Assuming the President's responsibilities when they are not available
Director of Marketing:
Promoting PSSA events throughout campus

Creating posters and Eventbrites as needed

With Director of Communications, running all social media platforms
Director of Communications:
In charge of all PSSS communication streams

Monitoring Gmail and sending out monthly emails

Staying in close contact with Lou (Dept Admin Asst)

With Director of Marketing, running all social media platforms
Director of Events:
Booking venues for general meetings, Executive meetings, and events

Procuring proper forms and licencing as needed

Assist with finding catering and event décor

Maintaining contact with venue managers, etc.
Director of Finance and Fundraising:
In contact with UWSA to track PSSA funds

Reimbursing group members as needed

Assisting with fundraising events as needed

Tracking PSSS event expenditures and liaising with the Political Science Department for funds as needed
 
[1] Executive positions will be discussed with leadership to determine what best suits a student's interests. Executive positions and their duties may not strictly adhere to the descriptions outlined in this ToR document.