University of Winnipeg Political Science Students Society
Political Science
---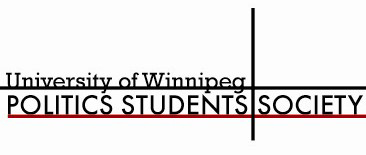 The Political Science Students Society is a registered student group with the University of Winnipeg Students Association. It brings together Political Science students within the university community through social and political events both on and off campus. PSSS activities will be posted under the Politics website "News" link, so please keep checking throughout the school year!

Some of the Society's past events:
Beginning and end-of-year faculty and student mixers
Speaking events and panels
Volunteering within the local community
Active participant in the Canadian Political Science Students Association, and delegate group to annual conferences
Election Forums
.....and more!
PSSS EXECUTIVE FOR 2016-17:  TBA
Co-Presidents: Janelle Gobin / Eric Siemens
Co-Directors of Events:  Brandon Kruse / Silke Groneweg 
Director of Finance: Brian Magai
Director of Communications:  Alexandria Bonney
Director-at-large:  Maya Janzen
Political Science Faculty Liaison:  Linda DeRiviere (Dept. Chair)


Contact Info:
The PSS is also on Facebook at: http://www.facebook.com/uofwpolitics
and you can also reach us at the following e-mail address: uofwpolitics@gmail.com
Employment opportunities in the Co-op program for undergraduate students: http://uwinnipeg.ca/coop-program/index.html
Please check this page often for up-to-the-minute information!