University of Winnipeg Political Science Students' Association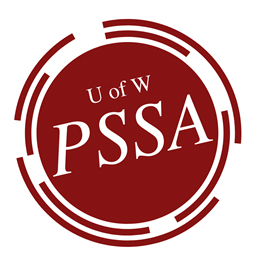 The Political Science Students' Association (PSSA) is a registered student group with the University of Winnipeg Students Association (UWSA). It brings together Political Science students within the university community through social and political events both on and off campus. PSSA activities will be posted under the Politics website "News" link, so please keep checking throughout the school year!

Some of the Society's past events:
Beginning and end-of-year faculty and student mixers
Speaking events and panels
Videos and discussion
Speakers' panel on the polarization of politics
Volunteering within the local community
Election Forums
.....and more!
PSSA EXECUTIVE FOR 2021-22:

President: Stacey Woods
Vice-President: Reese Estwick
Director of Marketing and Communications: Umar Awan
Director of Events: Aveena Kumar
Political Science Faculty Liaison:  Dr. Joan Grace 
Contact Info:
The PSSA is also on Facebook at: http://www.facebook.com/uofwpolitics,
on Twitter at https://twitter.com/UofWPSSS
and you can also reach us at the following e-mail address: uwinnipegpolitics@gmail.com