Tanya Narozhna
Political Science
---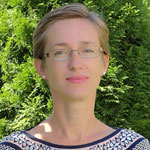 Title: Associate Professor (on leave July 1 - December 31, 2018)
Office: 6L17
Building: Lockhart Hall
Phone: 204.786.9461
Email: t.narozhna@uwinnipeg.ca

Biography:
Tanya Narozhna (PhD, University of Alberta, 2005) is Associate Professor of global politics at the University of Winnipeg. Her key research areas include critical security studies, gender and terrorism. Prof. Narozhna's major research project over the last few years has focused on female suicide bombings. She was the principal investigator (together with W. Andy Knight) of the SSHRC-funded project entitled 'Female Suicide Bombers: Transcending Occidentalism'. In 2013, Prof. Narozhna organized an international workshop "Female Suicide Bombings: Challenges and Responses," featuring some of the lead academics specializing in the issue of female terrorism. She is the author of Female Suicide Bombings: A Critical Gender Approach (with W. Andy Knight) published by the University of Toronto Press in 2016. In 2017, Prof. Narozhna received the Faculty of Arts Achievement in Scholarly or Creative Activity Award for her book. Her work on female suicide bombings has appeared in various edited collections and has been presented at high-profile international conferences, including ISA annual conventions in Toronto, San Francisco and New Orleans, the Millennium Series conference in Potsdam, and Canadian Political Science Association conferences in Edmonton and Calgary. 
Research Interests:
Global Politics/International Relations