Malcolm Bird
Political Science
---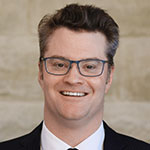 Title: Associate Professor; Associate Chair - MPA Program
Office: 6L18
Building: Lockhart Hall
Phone: 204.786.9122
Email: m.bird@uwinnipeg.ca

Biography:
I am fascinated by the evolution of Canadian public institutions; in particular, Crown corporations such as The Liquor Control Board of Ontario (LCBO), VIA Rail, Canada Post Corporation (CPC) and ATB Financial, a government-owned bank in Alberta.  In addition, I have done some work on the evolution of Canada's public universities. Not only have most of these public institutions managed to avoid the privatization wave of the last twenty or so years, but they have also reformed both their internal operations as well as their relationships with their respective political masters to continue to be relevant in an ever changing political and ideological environment. These public enterprises must find a delicate balance between a series of competing needs and interests arising from their political superiors, relevant stakeholders in their sectors (who are often very influential), their day-to-day commercial operations and, of course, the public interest.
The LCBO, for example, is regarded as the industry leader in terms of marketing and retailing innovation, and is the publicly owned and operated provincial liquor board retail model that is being emulated, to a greater or lesser degree, by all of the other provinces, with the notable exception of Alberta (the only province to have fully privatized its liquor distribution system).  I am currently working on my book Modernizing the Crown: Reforming the Liquor Control Board of Ontario, 1980-2010 for the University of Toronto Press that will provide an in-depth analysis of the political and institutional reasons why the Ontario government continues to own and operate a liquor retailer. ATB Financial and Canada Post, too, have undergone and continue to undergo some fundamental organizational changes.  By contrast, VIA Rail has been unable to successfully reform either its regime of governance or its operations in order to meet the needs of the traveling public. 
On a theoretical level, my work draws heavily on Historical Institutionalism and John Kingdon's multiple-streams decision making model. Historical institutionalism is a valuable lens through which to view both the nature and sources of the organizational changes these institutions have undergone, and Kingdon's decision making model is useful for unpacking the factors that shape governmental decisions regarding these semi-autonomous public appendages. This year, I am teaching an introduction to politics course as well as a graduate course in theory and practice of public policy in the Master's of Public Administration program. If you, too, are interested in public institutions and their evolution, and wish to conduct evidence-based research, please feel free to contact me or come by my office for further discussion.