Celebrating excellence in undergraduate research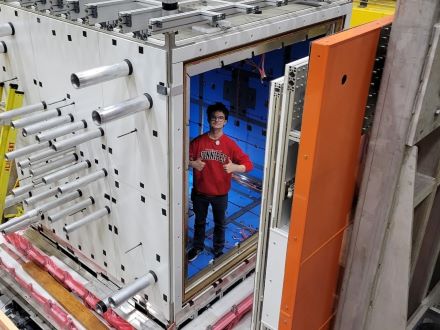 USRA funding from NSERC enabled Thomas Hepworth, a third-year physics major, to travel to TRIUMF, Canada's particle accelerator centre in Vancouver, B.C.
Hepworth's research focused on the magnetically shielded room (MSR) used by the TRIUMF UltraCold Advanced Neutron (TUCAN) collaboration to house their neutron electric dipole moment experiment.
"A magnetically shielded room enables the stability and precision of a field, required for the experiment to happen," Hepworth said.
His research involved writing software and running simulations to determine how to characterize a magnetic field inside an unmeasurable space.
"If you're shielding magnetic fields, that's great, but if you don't precisely know the field inside of the MSR it provides little value to your experiment," he explained.
Hepworth conducted software simulations and mathematical calculations in Winnipeg, and travelled to TRIUMF to take measurements alongside his faculty mentor Dr. Russell Mammei, Associate Professor in the Department of Physics.
"I had a great time working for Dr. Mammei," Hepworth said. "This was actually my second summer working for him. He provides a good structure for working and learning."
Hepworth said the experience improved his research skills, including time management, computer programming, experiment design, and how to recover from a setback. The networking that occurred at TRIUMF was also valuable.
"It was nice to be in this place with people from all over the globe working on different projects with a common goal of advancing science," he said. "I think the best thing is that now I could reach out to these people I have met at TRIUMF for advice or future research opportunities."
Hepworth recommends the USRA program to others.
"I think all students should investigate summer research opportunities to help appreciate their course work and explore job opportunities," he said.
Click HERE to read the full story of Celebrating excellence in undergraduate research.