UWinnipeg physicist Dr. Melanie Martin makes reality TV debut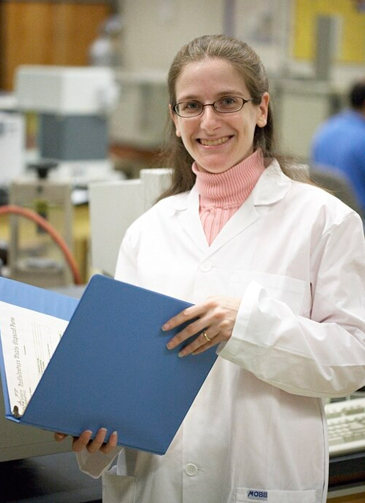 WINNIPEG, MB – UWinnipeg's physicist Dr. Melanie Martin is one of 32 Canadians competing in CBC's Canada's Smartest Person. The show premiere's with a special two-hour opener on Sunday, Sept. 28 at 8:00 pm hosted by Jeff Douglas and Jessi Cruickshank.
The diverse line up of contestants competing with Martin includes a cheese salesman from North Rustico, PE, a 16-year-old high school student from Peterborough, ON, and a fighter pilot from Calgary, AB. Four of the 32 contestants compete each week to test a variety of areas of intelligence. The final eight and two others then will compete in the series finale, one against the other, for the title of Canada's Smartest Person.
"I enjoy the challenges and being treated like a star," expressed Martin. "Meeting the other contestants from across the country is fun and interesting."
UWinnipeg has had previous representation in this competition. Dr. Marshall Todd Carroll, a UWinnipeg bachelor of science graduate (84') and contract instructor in Chemistry in 2012 also competed.
"We grew up on the same street, 2 blocks away from each other," said Martin. "We also went to the same high school. Maybe there is something in our water."
"This is a wonderful example of the diverse ways in which University faculty are engaged in many types of events," said Dr. Jino Distasio, Associate Vice President, Research and Innovation; Director, Institute of Urban Studies, University of Winnipeg. "We wish her success and know that her contribution will be great."
Martin Bio
Melanie Martin started at University of Winnipeg in the Physics department, where she is now a Chancellor's Research Chair. She is also the Director of the Magnetic Resonance Microscopy Centre in the Department of Radiology at University of Manitoba. She holds a BSc (hons) Physics from University of Manitoba. She obtained her MS, MPhil and PhD from Yale in Applied Physics/Biomedical Engineering. She completed her postdoc as an Associate Scientist at Caltech.
MEDIA CONTACT
Naniece Ibrahim, Communications Officer, The University of Winnipeg
P: 204.988.7130, E: n.ibrahim@uwinnipeg.ca