Master in Management
---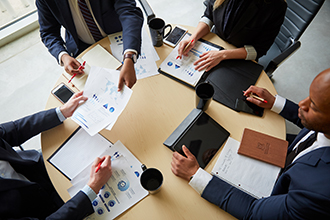 An Overview
The University of Winnipeg offers a one of a kind, industry-driven graduate program - a Master in Management (MiM) with a specialization in Technology, Innovation and Operations. The degree was developed in a unique collaborative effort between industry and UWinnipeg's Department of Business & Administration; ensuring students are learning essential applied and professional skills.
With the focus of the MiM in technology, innovation and operations management, the degree is addressing the challenges and opportunities facing organizations in all industries. Innovation has become a priority of most governments, private industry, and community organizations. Technology continues to play a key role in the business world, and in supporting innovative ideas. Operations Management provides a mechanism for companies to understand how all levels of the organizational structure can strategize around these driving forces.  The program is an opportunity to learn and reflect on systems that can lead to improved efficiency and effectiveness.
The MiM degree is suited for career-driven individuals with an undergraduate degree in business or other disciplines who are seeking additional management credentials or seasoned employees with significant experience in business without an undergraduate degree.
Want to hear from our first graduates, click here for the NewsCentre story.
Please email
mim@uwinnipeg.ca
with your questions or for further information.