In the News
---
In the News - LinkedIn - July 2016
Public Forum on Entrepreneurship
In the News - UWinnipeg News Centre - September 2015
India Centre Awards Dinner
Gurdas Mann Concert
In the News- Winnipeg Sun- February 2015
India Three Big Churns
In the News- Winnipeg Sun- January 2015
The Indo-Canadian: Over the Past 40 Years
In the News- Winnipeg Sun- December 2014
India Centre: One Year Later
In the News- Winnipeg Sun- November 2014
India Innovation & Inclusive Growth
In the News- Winnipeg Sun- October 2014
"Swaranajali" and the "Diwali Mela"
In the News- Winnipeg Sun- September 2014
India: Through the eyes of the West
FICCI Delegation from India on Higher Education- June 19th, 2014
A total of 60 participant attended The federation of Indian Chambers of Commerce and Industry incoming delegation from India on higher education. Read more
Science within Spirituality- January 29th, 2014
Approximately, 80 people gathered on January 29th, 2014 at the Convocation Hall at the University of Winnipeg to participate in a Public Forum on "Science within Spirituality" convened jointly by the India Centre and the Dakota Ojibway Tribal Council. Read more
In the News- Winnipeg Sun- June 25th, 2013
India Centre Opening & MOU Signing- November 2013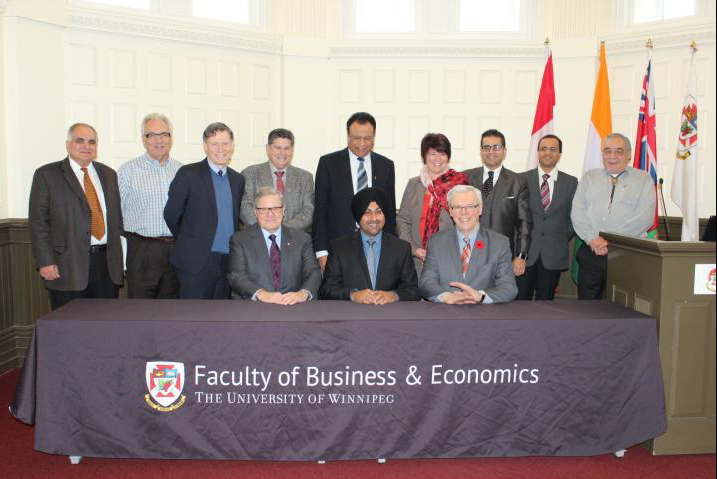 ---
The University of Winnipeg and the India Association of Manitoba signed a Memorandum of Understanding to develop a stronger collaborative relationship through creation of the India Centre for Academic, Business and Community Excellence.
Read our Press Release
Watch footage of the event!