In the News
---
In the News - Sept.25, 2018 - Pawan Singal -  Honorary Doctorate; BSc Hons, MSc, PhD, DSc; Honorary Doctor of Laws
Renowned cardiovascular researcher and community leader to receive honorary doctorate.
Pawan K. Singal is an internationally renowned cardiovascular researcher, educator, and highly regarded community leader in Manitoba.  Read full article here
In the News - LinkedIn - July 2016
Public Forum on Entrepreneurship
In the News - UWinnipeg News Centre - September 2015
India Centre Awards Dinner
Gurdas Mann Concert
In the News- Winnipeg Sun- February 2015
India Three Big Churns
In the News- Winnipeg Sun- January 2015
The Indo-Canadian: Over the Past 40 Years
In the News- Winnipeg Sun- December 2014
India Centre: One Year Later
In the News- Winnipeg Sun- November 2014
India Innovation & Inclusive Growth
In the News- Winnipeg Sun- October 2014
"Swaranajali" and the "Diwali Mela"
In the News- Winnipeg Sun- September 2014
India: Through the eyes of the West
FICCI Delegation from India on Higher Education- June 19th, 2014
A total of 60 participant attended The federation of Indian Chambers of Commerce and Industry incoming delegation from India on higher education. Read more
Science within Spirituality- January 29th, 2014
Approximately, 80 people gathered on January 29th, 2014 at the Convocation Hall at the University of Winnipeg to participate in a Public Forum on "Science within Spirituality" convened jointly by the India Centre and the Dakota Ojibway Tribal Council. Read more
In the News- Winnipeg Sun- June 25th, 2013
India Centre Opening & MOU Signing- November 2013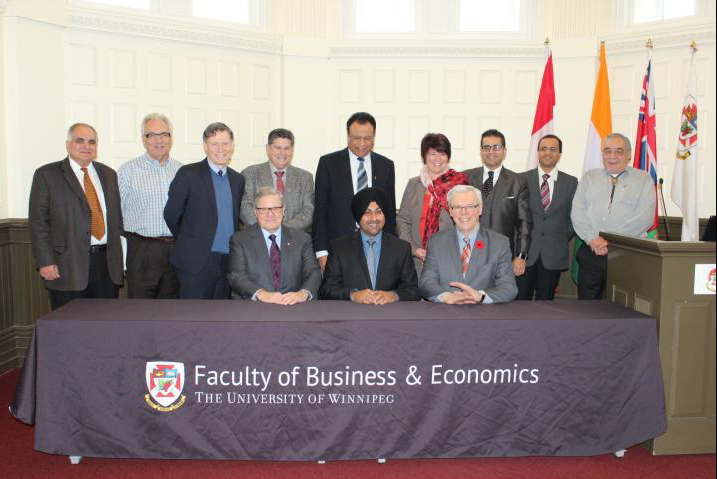 ---
The University of Winnipeg and the India Association of Manitoba signed a Memorandum of Understanding to develop a stronger collaborative relationship through creation of the India Centre for Academic, Business and Community Excellence.
Read our Press Release
Watch footage of the event!