Global College
---

2019 Retirees' Reception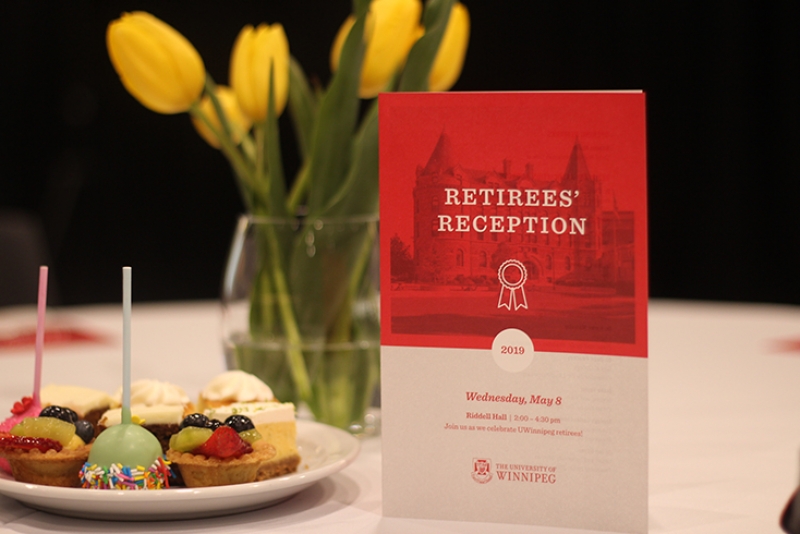 Family, friends, and colleagues celebrated this year's retirees at a reception on Wednesday, May 8, 2019 in Riddell Hall.
The list of retirees included Professor Dean Peachey, who will be retiring from the University of Winnipeg after serving as a professor, Human Rights Coordinator, and Executive Director of Global College. See more
---
Student Assistant position
Opening Date: May 2, 2019
Closing Date: May 13, 2019
Academic Capacity 1 (Marker)
In these positions, Employees are responsible for supporting the Immediate Supervisor in instructional activities, course-related or otherwise.
These are job(s) requiring moderate skills and judgment. Employees in this classification work with a moderate level of supervision and with the Immediate Supervisor's guidance, may perform a few of the representative duties or perform a specific function. The Employee will be informed by the Immediate Supervisor of the guidelines and limitations placed on them in completing their assigned duties.
---
Experiential Learning Presentation
"Field Trip to the West Bank, Israel: Quest for Peace and Justice"
Dean Peachey, Human Rights Program 
Video created by the University of Winnipeg Centre for Academic Technologies (Media Services - Video Production)
---
Cancellation Notice

Due to unforeseen circumstances, Global College - Colombia Field Course will be canceled for 2019.
Please feel free to contact me if you need any further information.
---
Spring and Summer Courses 2019
The University of Winnipeg Global College fosters global citizenship and engagement in human rights through interdisciplinary teaching, research, dialogue, and action in local and global communities.
Global College provides students, faculty, staff, visiting scholars, and community leaders with ways to interact on their diverse perspectives about global citizenship, human rights, and other issues affecting local and global communities.
Global College offers various courses in Spring and Summer term 2019, check it out!
Course Description
Over 65 million people are forcibly displaced around the world as a result of violence, conflict, persecution, and war. This course investigates modern day conflicts and the persecution of people on the basis of race, religion, ethnicity and nationality from both a human rights and an educational perspective. Specifically, students will examine more closely the refugee experience and the effects that war has on children, youth and their families and how to support rebuilding and healing after war. Participants learn about the international context of conflict and the political, economic and personal effects and consequences of modern day wars. Basic human rights, the provision of services, and access to education in emergencies are explored. The course also focuses promising practices that help newcomers and refugees transition to life in Canada.
---
For more information on Global College events email us at global.college@uwinnipeg.ca, explore this website for events and for relevant links, sign up for our monthly newsletter, or give us a call at (204)988 7105.
Welcome to our world of learning and action!