Global College
---

An Evening of  Music and Migration: Orontos Guitar Quartet

Since the outbreak of civil war in March 2011, millions have fled Syria seeking protection while millions more remain internally displaced in the country.  Members of the Orontes Guitar Quartet, Nazir Salameh, Gaby Al-Botros, Mohammed Mir Mahmoud, and Orwa Al-Shara'a were waiting to make their debut with the Syrian National Symphony Orchestra in 2016 when a bomb exploded outside.  That night they played on but as conditions worsened the ensemble found their way to Lebanon.  From Lebanon they were selected by the Artist Protection Fund as fellows and welcomed as Visiting Artists to the University of Victoria's School of Music. The quartet is in Winnipeg to play the Winnipeg Classical Guitar Society's Season Opener.  In collaboration with the Winnipeg Classical Guitar Society, the Global College, University of Winnipeg is pleased to host "An Evening of Music and Migration" featuring performances by the Orontes Guitar Quartet, as well as a question and answer session with the ensemble led by Global College's Associate Professor Shauna Labman and remarks on the World Refugee Council by its Chair and former University of Winnipeg President, the Honourable Lloyd Axworthy. 
With opening welcomes from Dr. Jan Stewart, Executive Director of the Global College, Deputy Provost and Associate Vice-President, Academic at The University of Winnipeg and Kurt Tittlemier, President of The Winnipeg Classical Guitar Society.
---
The University of Winnipeg Convocation June 2019

Watch
June 13 Morning Ceremony - Live Webcast

June 13 Afternoon Ceremony - Live Webcast

June 14 Morning Ceremony - Live Webcast
---
Global College Graduation Reception June 2019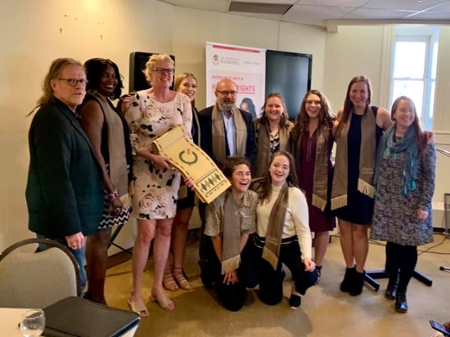 The University of Winnipeg Global College celebrated Human Rights Graduates with their loved ones last Wednesday, June 12, 2019 at UW Club. The celebration included speeches for Prof. Jan Stewart, Executive Director, Prof. Lloyd Kornelsen, and Prof. Dean Peachey.
Dr. Kristi Kenyon and Dr. Alois Baleni joined the reception and the memorable pictures with HR grads.
Watch the University of Winnipeg Spring Convocation - June 13, 2019
---
Faculty and staff members to be recognized for excellence
 Posted on: 05/22/19
|
Author: Communications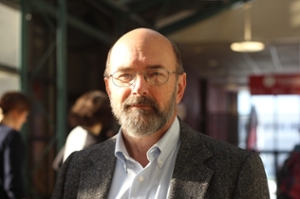 Dr. Dean Peachey, Clifford J. Robson Memorial Award for Teaching Excellence
WINNIPEG, MB – The University of Winnipeg is pleased to recognize nine exceptional members of the UWinnipeg community at the upcoming Spring Convocation, which will take place on June 13 and 14.
---
2019 Retirees' Reception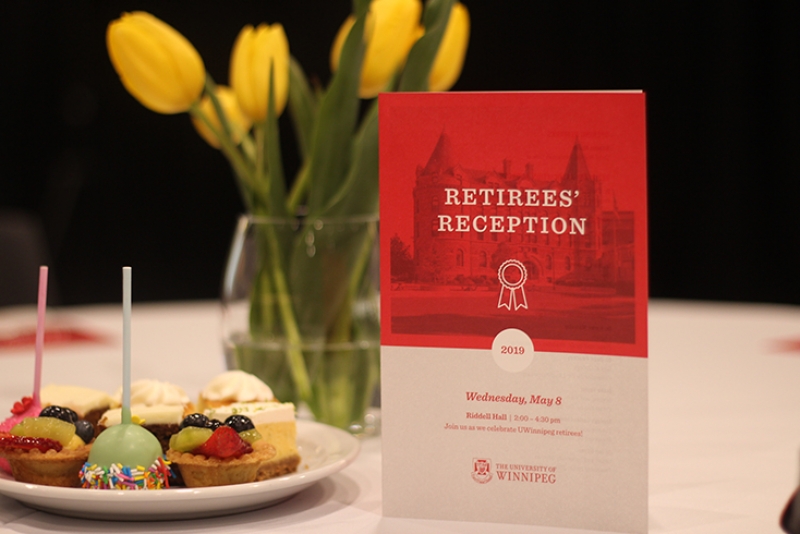 Family, friends, and colleagues celebrated this year's retirees at a reception on Wednesday, May 8, 2019 in Riddell Hall.
The list of retirees included Professor Dean Peachey, who will be retiring from the University of Winnipeg after serving as a professor, Human Rights Coordinator, and Executive Director of Global College.
See more
---
Experiential Learning Presentation
"Field Trip to the West Bank, Israel: Quest for Peace and Justice"
Dean Peachey, Human Rights Program 
Video created by the University of Winnipeg Centre for Academic Technologies (Media Services - Video Production)
---
Spring and Summer Courses 2019
The University of Winnipeg Global College fosters global citizenship and engagement in human rights through interdisciplinary teaching, research, dialogue, and action in local and global communities.
Global College provides students, faculty, staff, visiting scholars, and community leaders with ways to interact on their diverse perspectives about global citizenship, human rights, and other issues affecting local and global communities. 
Global College offers various courses in Spring and Summer term 2019, check it out!
Course Description
Over 65 million people are forcibly displaced around the world as a result of violence, conflict, persecution, and war. This course investigates modern day conflicts and the persecution of people on the basis of race, religion, ethnicity and nationality from both a human rights and an educational perspective. Specifically, students will examine more closely the refugee experience and the effects that war has on children, youth and their families and how to support rebuilding and healing after war. Participants learn about the international context of conflict and the political, economic and personal effects and consequences of modern day wars. Basic human rights, the provision of services, and access to education in emergencies are explored. The course also focuses promising practices that help newcomers and refugees transition to life in Canada.
---
For more information on Global College events email us at global.college@uwinnipeg.ca, explore this website for events and for relevant links, sign up for our monthly newsletter, or give us a call at (204)988 7105.
Welcome to our world of learning and action!