Top 5 Reasons You Will Love UWinnipeg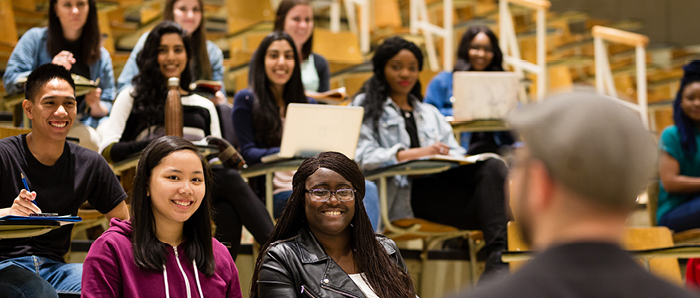 Looking for the best? The University of Winnipeg ranks among the best in all of Canada! We have been ranked in the top 10 for primarily undergraduate universities, and we score highly in the areas of class size, teaching quality, faculty-student interaction, diversity and commitment to sustainability. Here are some of the reasons why we think you will love us.

1. Diverse and Vibrant Campus
From the iconic Wesley Hall to the ultra-modern Buhler Centre and state-of-the-art RecPlex, our vibrant downtown campus is a diverse mix of modern facilities and historic structures. Bike-friendly and easy to access via transit (21 bus routes come directly to campus), UWinnipeg's central location is steps away from a wide range of shopping, arts, culture, and ethnic restaurant options.

2. Small Class Sizes
The smaller your class, the more opportunities you have to ask questions, get to know your professors, and to meet new people, all of which will enhance your university experience. Class sizes between 30-60 students make connecting with others easier and more comfortable from day one. The average first-year and second-year class size:  37 students

3. Early Hands-On Learning
One of the most valued accomplishments in university is participation in research. It enhances your understanding of the world, advances your level of education, and lets you contribute to your field of study. Undergraduate students at UWinnipeg have the unique opportunity to participate in research, while most universities offer this to graduate students only. Our helpful and responsive instructors have a big impact on your learning experience. You will not only be taught by award-winning instructors and inspiring researchers in your field, but you will have access to these great minds outside of class. Our professors put you first, providing you with supports to succeed in your studies and opening doors to future opportunities.

4. Top Quality Education at an Affordable Price
The University of Winnipeg is one of the most accessible universities in Canada. Students in Manitoba benefit from the third lowest tuition rates among provinces in Canada. In 2020, a student attending university in Ontario paid an average of $7,938 in tuition, while a student in Manitoba paid $4,913. (Statistics Canada 2020)

5. Students Matter Most
Some of the biggest supporters of UWinnipeg are the students themselves. In fact, 92% of graduating students reported that they were satisfied with the quality of education they received.* We are committed to creating a student experience like no other, and it shows.
Fast Fact: Bring your water bottle! UWinnipeg was the first university campus in Canada to ban the sale of bottled water.
* Canadian University Survey Consortium (CUSC) 2021 Survey of Graduating Students