Find Yourself Here - Student Life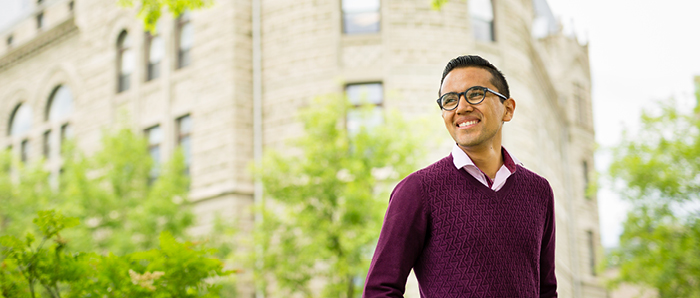 UWinnipeg is THE place to be for music lovers, sports fans, culture vultures, and any student wanting to find that balance between work and play. The key to our great university experience is there is always something happening at and around our campus. You'll be part of a small community at the heart of downtown Winnipeg, surrounded by exciting social and cultural opportunities. No matter what your interest, you'll find yourself here.
---
If music matters to you

You'll see the biggest concerts and local favourites:

- The MTS Centre
- The Burton Cummings Theatre
- The Winnipeg Symphony Orchestra
- West End Cultural Centre
- Exchange Event Centre

If art and culture matter to you

The Downtown area is where it's at:

- The Winnipeg Art Gallery
- The Royal Winnipeg Ballet
- The Manitoba Theatre Cenre
- Manitoba Museum
- Pantages Playhouse Theatre
- The Winnipeg Fringe Festival
- The Winnipeg Jazz Festival

If sports matters to you

All the big teams play right nearby:

- The Winnipeg Jets (hockey)
- Winnipeg Goldeyes (baseball)
- Winnipeg Blue Bombers (football)

If great food & shopping matter to you

Check out:

- The Forks
- Corydon Avenue
- Portage Place
- The Exchange
Orientation Week
It makes the transition from high school to university so much easier, and so much fun. When you join us for Orientation Week, students and faculty help you get familiar with campus and you'll make new friends even before classes begin. There are activities all week long, like the annual Rock Climb, noon hour barbeques and bands, free breakfast, movie nights and games!
The University of Winnipeg's Students Association (UWSA)
The UWSA is your student voice on campus. Located in the Bulman Student Centre, The UWSA functions as your service provider, not-for-profit student union, advocate, representative, and lobbyist group. Working or volunteering at the UWSA is a great way to grow, meet people and make the most of your time on campus.
Need a break? Visit our student-run Soma Café. Located on the Spence Street side of the Duckworth Centre, the Soma Café features fair trade coffee and fresh food in a welcoming setting.
Something in Common
If you want to make new friends and learn something new, the UWSA offers a variety of services, activities, and student groups to choose from:
Aboriginal Self-Governance Students' Association
Alpha Phi Sorority
Amnesty International University of Winnipeg
Business Administration Student Association (BASA)
Canada World Youth Alumni Assoc (CWYAA)
Delta Upsilon Fraternity
Downtown Jazz Band
Eco-MAFIA
Education Students Association
French Club
Interfaith Centre
International Resource Centre
Japanese Animation Association of Winnipeg (JAAW)
Journalists for Human Rights – University of Winnipeg Chapter
Juice Magazine
Part Time/ Mature Students' Centre
Peer Support
Petrified Sole Used Bookstore
Photo Club
Safewalk program
Snowboarding Club
Stylus Magazine
The Uniter campus newspaper
Theatre Students Association
Toastmasters Club
Women's Centre
…and many more!