Athletics and Wellness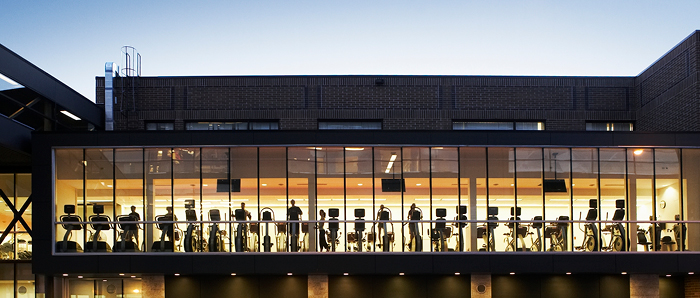 In addition to our academic studies, The University of Winnipeg is highly regarded for our athletic programs. Our Wesmen basketball and volleyball teams have won more national championships combined than any other university in Canada! We've also opened a new fitness centre, so you can keep fit and have fun while studying on campus.
Wesmen Rock!
The University of Winnipeg Wesmen teams have enjoyed incredible success over the past 40 years. They have taken home 20 national championships, including 10 men's volleyball, six women's volleyball, and four women's basketball titles. An emphasis on qualified instruction has led to 16 Wesmen coaches being named Canadian Interuniversity Sport (CIS) coaches of the year, 17 Wesmen athletes honoured as Canadian Interuniversity Sport (CIS) players of the year, and 81 players named All Canadians. With all their success and a bright future ahead, the Wesmen take pride in being "Your Real Home Team!"
Axworthy Health & RecPlex
This new state-of-the-art facility provides an indoor green space that accommodates a variety of sports such as soccer, flag football and track and field. The Axworthy Health & RecPlex includes a large multi-use artificial turf field with three cross-fields, a four-lane 60-meter rubberized sprint track, a community gym, retractable batting cages, a dance/yoga studio, food and beverage kiosks, and an underground parkade that can accommodate 189 vehicles.
Bill Wedlake Fitness Centre
This fitness centre covers nearly 6,000 square feet in area and features state-of-the-art cardio equipment, weight machines and free weights. The facility also boasts a new sound system and several mounted televisions to keep you motivated during your workout. For only  $36.62, students can access the gym for the entire year – the best deal in town!
Kinesiology and Applied Health
Looking to explore the study of human movement and exercise? Led by an award-winning faculty, the Kinesiology and Applied Health program will help you learn how to best teach and coach physical skills. You'll also understand the place of physical activity and sport in our society. Many courses challenge our students to explore and participate in community programs. In turn, the community is invited on campus to participate in our classroom experiences. All of this has provided for an exceptional "Living Laboratory" experience.
Athletic Therapy
Practical experience is essential to becoming a Certified Athletic Therapist and U of Winnipeg students enjoy extensive, hands-on training through our four-year program. Under the guidance of our expert faculty, students work in our Athletic Therapy Centre, on campus and in the field, with a variety of community sport programs, including football, rugby, hockey, basketball, volleyball, soccer and gymnastics.