Academic Pathways
Future Students
---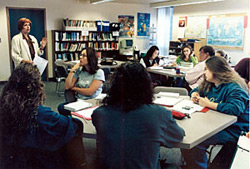 The University of Winnipeg offers international students a high quality, affordable education in a welcoming atmosphere. There are three different entry pathways for you to consider, all of which lead to a university degree in your area of interest.



If you are fluent in English, hold a high school equivalent certificate and are ready to pursue degree studies...
You will be interested in our undergraduate degree programs in Arts, Science, or Business and Economics.  The University offers more than 800 courses in 40 subject areas, in everything from Business and Administration to Applied Computer Science, Economics and Chemistry.

If you have the academic qualifications to start University, but need to improve your English...
The place to start is the English Language Program (ELP).  You can apply for Conditional Status at the University and then with the successful completion of the highest level of the certificate program (Academic Level 5), you will able to enrol in degree studies. 

If you need to upgrade your high school academic qualifications...
You can attend The University of Winnipeg Collegiate.  As one of the few high schools within a university in Canada, The Collegiate offers a wide range of courses, including English, Mathematics and the sciences, available at three high school levels:  Grades 10, 11, 12.  A diploma from The Collegiate qualifies you for entrance into any university in Canada.   You may be eligible to take high school courses and University courses at the same time.