The Gupta Faculty of Kinesiology and Applied Health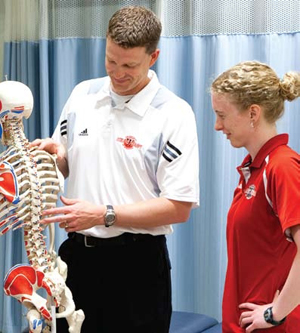 The Gupta Faculty of Kinesiology and Applied Health is the newest Faculty on The University of Winnipeg campus. The Faculty combines and integrates the academic, teaching, and research capacity of the Department of Kinesiology and Applied Health, and the administrative and programming strengths of the Department of Athletics.
New athletic therapy, healing and clinical spaces within a renovated Duckworth Centre, along with the state-of-the-art UNITED Health & RecPlex, provide UWinnipeg students and the surrounding community with a block-long wellness and recreation destination.
---
Kinesiology

The Bachelor of Kinesiology (BKin) is designed for students interested in sport administration, sport/fitness equipment design and sales, inclusive physical activity for persons with disabilities, working with seniors in exercise settings, children's physical activity programs outside the school system, fitness assessment, training/exercise prescription in various public facilities, corporate fitness/ergonomic programs, among other physical activity related opportunities. This degree program can lead to certifications as a Personal Trainer, Exercise Physiologist, Mental Trainer, or Sport Coach. Exceptional students may want to consider pursuing an Honours BKin. 
Athletic Therapy
This stream is one of 7 programs across Canada accredited by the Canadian Athletic Therapists Association (CATA).  Graduates, who successfully complete the CATA certification exams, earn the right to work as an Athletic Therapist with sports teams, in clinical practice or in other related fields such as insurance case managers, industrial return to work, and the arts such as ballet, Cirque de Soleil etc. Students may also choose this stream for pre-professional preparation for medicine, physicians assistant, physiotherapist, occupational therapist, prosthetics and orthotics. Students first enroll in the 4-year BKin and during their second year of study, submit an enhanced major form to be considered for the BSc-athletic therapy program.
Physical and Health Education

The three-year major is designed primarily for students wishing to pursue a career in teaching. In the third year of study, students apply to the Faculty of Education and complete a two-year after-degree program. The student would earn both a Bachelor of Physical and Health Education AND Bachelor of Education. Some students choose to use the three-year degree as an entry to other professional degrees or simply seek employment in physical activity settings following graduation. 
Integrated BEd/BPHE degree

Students, who are convinced that teaching physical education in the school system is their career of choice, may want to consider the integrated BPHE/BEd program.  This course of study involves taking a combination of Kinesiology and Education courses throughout the five years of study (same as if you were doing the after degree program).  You would still select the school level you wish to teach and the corresponding required Kinesiology courses.  The benefits are that you are immersed in the school setting much earlier in your program so that you can get a first hand look at the teaching profession.  You get much more classroom experience which will be beneficial after graduation.  You also have the opportunity to make many more contacts in the schools system that goes a long way to future employment.  Click BEd Integrated Program for more information.