Message from the Chair
Kinesiology and Applied Health
---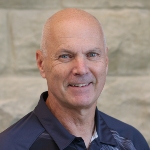 Dr. David Telles-Langdon, PhD.
Chair, Department of Kinesiology and Applied Health


Welcome to the Department of Kinesiology and Applied Health!
Our undergraduate enrollment in the Department of Kinesiology and Applied Health has doubled in the past decade. This is a testament to the interest in human movement, the importance of our field of study, and the quality of our faculty. For those who are still learning what kinesiology is all about, we examine the anatomical, biomechanical, physiological, psychological, and neuromuscular aspects of human movement. Kinesiology has broad applications in health, education, clinical, and sport settings. Kinesiology incorporates a seemingly eclectic mix of sport science, social science and education. The University of Winnipeg's Department of Kinesiology and Applied Health is a vibrant group of faculty, staff, and students who study human movement.

We are Teachers
The department is committed to providing our students with the highest quality, most relevant degree programs at the undergraduate levels. Students will find opportunities to interact with faculty in a variety of programs that will lead to exciting career opportunities. For students interested in going on to earn a graduate degree, there is the opportunity to engage with our research faculty in our Honours program. Please take time to explore our webpage, so you can learn more about all the program options Kinesiology and Applied Health has to offer.

We are Researchers
In addition to our degree programs, the Department continues to fulfill its mission by conducting research and disseminating this work in the discipline's journals. Research conducted by our scholars utilizes a multidisciplinary and collaborative approach in trying to better understand the processes involved in human movement. Faculty within the Department have developed meaningful and productive areas of research that continue to be funded by various agencies including Tri-Council (CIHR, NSERC, & SSHRC) other funding sources.

We are in the Community
The Department of Kinesiology and Applied Health is also committed to providing services to the University of Winnipeg community at large and the City of Winnipeg by advocating and promoting healthy living through physical activity and encouraging life-long movement. The Department of Kinesiology and Applied Health will continue our quest for knowledge through research and pursue excellence and professional preparation in our educational programs.
Again, Welcome to Kinesiology and Applied Health
David Telles-Langdon