Message from the Chair
Kinesiology and Applied Health
---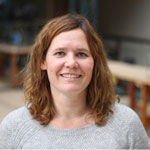 Dr. Melanie Gregg
Chair, Department of Kinesiology and Applied Health
Welcome to the Department of Kinesiology and Applied Health!
Imagine a gymnasium filled with 40 eager 7 year olds, fidgeting as they try to wait for instructions. Now you let them free – to climb, run, jump, crawl, swing, and discover how their bodies can move. How can you help this group develop physical literacy, find motivation to participate in lifelong physical activity, or become the next Kaitlyn Lawes or Mark McMorris? Now shift focus and see yourself working in cardiac rehabilitation as a healthy lifestyle counselor aiming to get women to make their post-heart attack rehabilitation a priority. Shift again and now the scene is Beijing 2022, you are in the athletes' village as an athletic therapist, trying to relieve some of Team Canada's physical strain so they can perform at their best.
There are many journeys that studying kinesiology can take. From looking at the effects of human movement at the cellular level to the role of sport in society; if you have an interest in exercise, physical activity, or sport, a degree in kinesiology related fields can move you.   With applications to human health including areas such as: biomechanics, strength and conditioning, psychological factors like mental toughness, confidence and focus, sport ethics, injury rehabilitation, physical literacy, sport performance, health and wellness – kinesiology is a broad field with numerous career opportunities.
As you make your decision about where your journey will head consider whether a degree in kinesiology and applied health is in your future. No matter where your journey takes you make it an active and healthy one.