Bruno Cornellier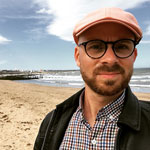 Title: Associate Professor and Graduate Program Chair (Cultural Studies)
Office: 2A43
Building: Ashdown
Phone: 204.786.9954
Email: b.cornellier@uwinnipeg.ca
Degrees:
PhD Communication – Concordia University (2011)
Biography:

Bruno Cornellier is Associate Professor of Cultural Studies in the Department of English. His current research draws connections between authorship, racial capitalism, extractive capitalism, and cultural appropriation in the 21st Century.
Teaching Areas:

Cultural studies; film studies; popular culture
Courses:
(FW) ENGL-2145-001 Field of Cultural Studies

(FW) GENG-7103-050 Research Methods and Practice
Publications:

BOOK
La "chose indienne": Cinéma et politiques de la représentation autochtone au Québec et au Canada. Montréal: Nota Bene, 2015.
EDITED VOLUMES
(with Michael R. Griffiths). "Globalizing Unsettlement." Special issue of Settler Colonial Studies 6, no. 4, 2016.
(with Cécile Alduy and Dominic Thomas). "The Charlie Hebdo Attacks and Their Aftermath." Special issue of Occasion 9, 2015.
"Le cinéma québécois après la Révolution tranquille : Dits, écrits et manifestes." Special issue of Nouvelles Vues 6, 2006.
ARTICLES AND BOOK CHAPTERS  
(with Jenny Heijun Wills). "How to kin the transnational adoptee in the Québécois nationalist family romance?" Adoption & Discourses of Multiculturalism: Europe, the Americas and the Pacific, edited by Jenny Heijun Wills, Tobias Hübinette, and Indigo Willing, University of Michigan Press, forthcoming, 2019.
"Of the North. L'appropriation culturelle et la romance du 'copyleft'." Liberté: Art & Politique no. 321, 2018.
"The Struggle of Others: Pierre Vallières, Québécois Settler Nationalism, and the N-Word Today." Discourse: Journal for Theoretical Studies in Media and Culture 39, no.1, 2017.
"Extracting Inuit: The of the North Controversy and the White Possessive." American Indian Culture and Research Journal 40, no.4, 2016.
"Interculturalism, Settler Colonialism, and the Contest over 'Nativeness'." Biopolitics and Memory in Postcolonial Literature and Culture. Ed. Michael R. Griffiths. London: Ashgate, 2016.
"Jackie Chan's Indian Play: Immigration, Asianness, and the Contracting Self in the American Settler Colony." Settler Colonial Studies, 6, no.4, 2016.
"Representation, White Resentment, and the Freedom-of-Expression Defense." Occasion 9, 2015.
(co-authored with Diana Brydon). "Canadian Postcolonialisms." The Oxford Handbook of Canadian Literature. Ed. Cynthia Sugars. Oxford: Oxford University Press, 2015.
"The 'Indian Thing': On Representation and Reality in the Liberal Settler Colony." Settler Colonial Studies 3, no.1, 2013.
"The Thing about Obomsawin's Indianness: Indigenous Reality and the Burden of Education at the National Film Board of Canada." Canadian Journal of Film Studies/Revue canadienne d'études cinématographiques 21, no.2, 2012.
"Je me souviens (maintenant) : Altérité, indianité et mémoire collective." Canadian Journal of Film Studies/Revue canadienne d'études cinématographiques 19, no.2, 2010.
"Éloge du nombre : Cinéma national, industries culturelles et (re)configurations du populaire." Nouvelles Vues 9, 2008.
 "L'Indien, mon frère : Identité, nationalité et indianité dans Le Confessionnal." London Journal of Canadian Studies 21, 2005/2006.