Curatorial Practices
Cultural Studies
---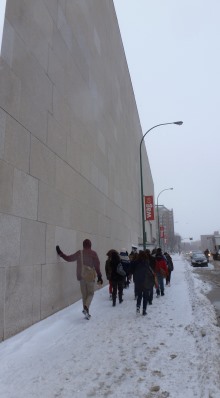 Focus on museum studies
This course-based MA is intended to give students an excellent foundation in both the academic and professional aspects of gallery and museum work. The mixture of theoretical and practical courses in the Curatorial Practices specialization will introduce students to critical issues in the study of visual cultures. Students will select courses from other areas of Cultural Studies on the basis of their individual interests. Historical and contemporary curatorial principles are studied in a seminar format as well as engaging in a hands-on Practicum course with individual placements in partnered art institutions. Graduates of the Curatorial Practices specialization will be prepared for employment in visual arts institutions as curators, art historians, critical writers, and gallery educators; in the fields of communications, and in museums; they may also go on to pursue further doctoral studies in Art History. The specialized courses in Curatorial Practices are open to
all students in Cultural Studies.
Students benefit from the University of Winnipeg's location in the downtown arts precinct and are within walking distance of the Exchange District, one of the most thriving contemporary art scenes in Canada. They have access to the curatorial staff, collections and library at the Winnipeg Art Gallery, the facilities of the new Plug In Institute of Contemporary Art, Gallery 1C03, and the Buhler Gallery at St. Boniface Hospital, as well as other local public, private and artist-run galleries, museums, libraries and archives.
Admission Requirements
Applicants should have an Honours or Four-year BA in Art History, a joint Honours or Four-Year BA in Art History and another subject, or an Honours or Four-Year BA in a field that provides the applicant with preparation in cultural, literary, textual, and/or visual studies (in this context, degrees we will consider include Honours or Four-Year BAs in English, Anthropology, History, Fine Arts, Politics, Rhetoric and Communication, Sociology, and Women's and Gender Studies). Other degrees and/or experience also will be considered on a case-by-case basis. A minimum number of courses in visual studies (the equivalent of 30 credit hours of study at the Honours level or 48 credit hours of study at other postsecondary levels) is required of all students, to be completed either before entry into the program or during a qualifying period.
(Photo (c) Victoria Nikkel)