Transition Year Program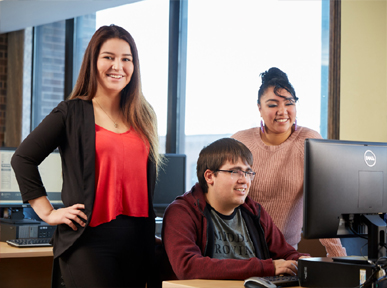 The transition to a full-time academic study in an urban post-secondary institution may be challenging and difficult for some high-school students and mature adult learners. The Transition Year Program (TYP) has been created to assist many new Indigenous students build the academic and personal coping skills that will foster post-secondary success.
Application, Registration and Advising Assistance:
The TYP Coordinator will assist all prospective Indigenous students with the application process. Once admitted to The University of Winnipeg the coordinator will facilitate the WebAdvisor registration process.
As part of the program, all TYP students must register for an Academic Writing course, RHET-1105(3) and an Intro to University course, MULT-1000(3). Attendance is recorded for all students enrolled in the TYP Academic Writing course(s)
The remaining courses may be selected from a list of over five-hundred university courses. 
All students will receive first year advising both at the orientation, and throughout the academic year.
Orientation:
A mandatory orientation is held prior to the beginning of the fall term. During orientation students will be introduced to additional university support services and community resources 
All students will receive First Year Academic Advising and overview of student responsibilities
Students have the option to be matched with a 2nd or 3rd year student as part of the TYP Mentorship Program. All peer mentors act as guide and resource of information for TYP students adjusting to campus life
With the assistance of the Peer Mentors, TYP students will obtain their Student ID card, purchase course textbooks from the university bookstore and provided with a tour of the campus.  
Academic and Support Services: The TYP Coordinator is available throughout the year to assist all TYP students to ensure that emotional, social and academic needs are addressed. Additional support includes;  
Course add,drop or change assistance
Degree planning
Study Skill workshops in note-taking and time management
Providing tutorial support in essay writing
Liaison with sponsorship agencies and education authorities
For more information regarding the Transition Year Program (TYP ) please contact:
Randy White
Transition Year Program Coordinator
Aboriginal Student Services Centre
Email: r.white@uwinnipeg.ca
Tel: 204.786.9983
RM: 2L01A
*All TYP applicants must meet the general entrance requirements of The University of Winnipeg.