Student Supports
Aboriginal Student Lounge (RM 2L02) Lockhart Hall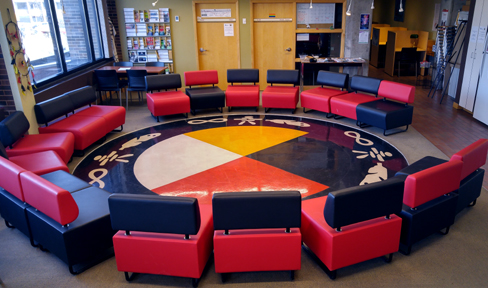 The Aboriginal Student Lounge is the hub of excitement and activity on campus and home to over 1,200 Indigenous students.  The lounge is open seven days a week, Monday – Sunday, 8:30 am – 10:00 pm. Please see Jeff Booth 2L01B for a Salto Card Access form.
The lounge provides a safe and respectful atmosphere for students to study, create life-long relationships and host student events. All registered students have access to the computer lab (20 computers), printer and telephone services, 75 free lockers available and a number of cultural and social events taking place. 
Peer Tutoring
The educational pressures of pursuing an undergraduate degree may be demanding and challenging for many students. The ASSC Peer Tutoring program provides a valuable resource to students in areas of science, math, academic writing and essay compositions. The ASSC employs 15 - 20 tutors each year to provide Free one-on-one tutoring for all Indigenous students in need of academic support. Students are required to honour their commitment to meet their tutor at the agreed date and time and to come prepared for the tutoring session.
Employer Speaker Series
In partnership with The University of Winnipeg's Career Resource Centre, the ASSC offers employer speaker sessions on Wednesday's in the Aboriginal Student Lounge RM 2L02. The speaker series provides an excellent opportunity students wanting to get a head start on summer employment, career opportunities and information on external scholarships and bursaries. Sessions begin at 12:30 p.m. and are very informal and relaxed and conclude with a question and answer period. The speaker series is open to all students of the University of Winnipeg and a light lunch is provided for those in attendance.
Cultural and Social Activities
There are  a number of social and cultural events for registered Indigenous students and their immediate families:
Cultural Events:
The last Friday of every month through the Elders-in-Residence, the ASSC hosts a Lodge Ceremony open to all students, staff and faculty.
The Elders-in-Residence provide various teachings and cultural workshops within the centre, including various teachings and workshops. 
Monthly potlucks are held the first Wednesday of every month from 12:30 p.m.  - 1:30 p.m. in the Aboriginal Student Lounge RM 2L02 and is open to all members of the University of Winnipeg.
Spring Graduation Powwow held in March of each year.
Social Events:
Transitioning into a post-secondary urban environment may be challenging not only for the student but for their immediate family members as well. The ASSC  provides various social activities throughout the academic year including:
Family Nights - Halloween and Christmas Party
Bowling Night(s)
Pool Night
Movie Night(s) - All students are welcome to attend movie night within the centre, pizza or hot dogs, snacks and drinks are provided by ASC
ASSC Weekly Newsletter
Each week the ASSC produces a newsletter informing students of the various activities held within the centre including social events, upcoming Employer Speaker session guests, Elder-in-Residence schedule and cultural teachings and activities, information on Indigenous internal & external scholarships, employment opportunities and relevant University of Winnipeg information.