Contacts - Support Staff
Aboriginal Student Services Centre (ASSC)
---
The ASSC staff bring a combined total of over 60 years expertise in all areas of student services. We pride ourselves in offering fully rounded services.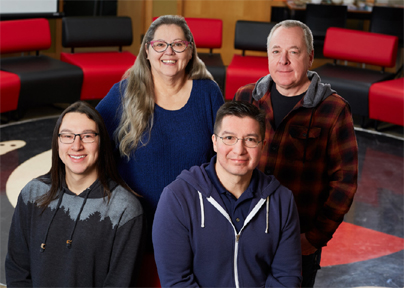 ---
Academic Advisor / Indigenous Student Support Officer
Jeffrey Booth
phone: 204.786.9818
office: 2L01B
email 
Jeff provides advising is provided for all Indigenous (First Nations, Métis, and Inuit) students. He also facilitates the centre's cultural related programs and student activities, oversees the University Preparatory Program (UPP), our Elders-in-Residence, ASSC Student Ambassadors and establishes working relationships with prospective employers to provide informational sessions to students within the centre.
Aboriginal Liaison Officer
Tim Coughlan
phone: 204.786.9922
office: 2L01C
email
Tim Coughlan graduated from the University of Winnipeg with a 4 year BA with a focus on Kinesiology. Tim has run drop in centres for youth in Winnipeg and he worked at an Indigenous High School as their Recreation Coordinator. As the U of W Indigenous Liaison Officer, Tim works on partnerships with Indigenous communities, organizations and high schools in the province. Tim provides information sessions to students interested in post-secondary education, conducts campus tours and encourages Indigenous students to take advantage of the opportunities offered at the University of Winnipeg throughout their studies.
Transition Year Program Coordinator / First Year Advisor
Randy White 
phone: 204.786.9983 
office: 2L01A 
email
As TYP Coordinator, Randy facilitates the application for admission process, provides assistance with timetabling and course selection, first year advising to 1st and 2nd year Indigenous students on campus, offers study skill and essay writing assistance, and coordinates the Mentor program and Tutorial services throughout the year.
Director, Micro-Communities
Andrea McCluskey
phone: 204.786.9865
office: 2L01D
email
Andrea is an Indigenous Academic Advisor, and oversees the operations in both the Aboriginal Student Services Centre and International, Immigrant & Refugee Student Services. A member of the Manitoba Métis Federation, she has worked as a consultant in Indigenous communities across Manitoba. Andrea has also coordinated the projects Second Chance (to support Indigenous inmates) and Lost Prizes (to reclaim at-risk, high-school drop-outs), and has produced several chapters and articles on these programs.