Mirjana Roksandic
Anthropology
---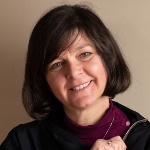 Title: Faculty Member, Coordinator Bioanthropology
Office: 4CM17
Building: Centennial Hall
Phone: 204.786.9927
Email: m.roksandic@uwinnipeg.ca

Biography:
Mirjana Roksandic (PhD Simon Fraser University) is a biological anthropologist whose main research topics include Pleistocene hominin evolution in Europe and mortuary ritual among sedentary and semi-sedentary archaeological hunter-gatherers. She has two active international projects: one in Serbia focusing on hominins excavated in Paleolithic caves, and the other in Cuba where she is working on questions of mortuary practice and ritual continuity.
Dr. Mirjana Roksandic is a recipient of NSERC, SSHRC SRG and SSHRC IOF grants. She currently teaches a field school in Paleoanthropology and Paleolithic Archaeology in Sicevo George in Serbia.
Publications:
Roksandic, Mirjana & Radović, Predrag & Lindal, Joshua. (2017). Revising the hypodigm of Homo heidelbergensis : A view from the Eastern Mediterranean. Quaternary International. 10.1016/j.quaint.2017.10.013. 
K Harvati, Roksandic M Eds (2016) Paleoanthropology of the Balkans and Anatolia: Human occupation and its context. Vertebrate Paleobiology and Paleoanthropology. Dordrecht: Springer
Roksandic M, Alarie K, Rodriguez Suarez R, Huebner E, Roksandic I (2016) Not of African descent: Dental modifications among indigenous people at Canímar Abajo, Cuba. PLoS One 11(4): e0153536. doi:10.137, April 12, 2016.
Roksandic M, Buhay WM, Chinique de Armas Y, Rodríguez Suárez R, Peros MC, Roksandic I, Mowat S, Vieira LM, Arredondo C, Martinez Fuentes A, Smith DG (2015) Radiocarbon and stratigraphic chronology at Canímar Abajo, Matanzas, Cuba. Radiocarbon 57(5): 755-763.