Mirjana Roksandic
Anthropology
---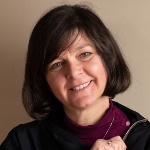 Title: Faculty Member, Coordinator Bioanthropology
Office: 6L35
Building: Lockhart Hall
Phone: 204.786.9927
Email: m.roksandic@uwinnipeg.ca
Biography:

Mirjana Roksandic (PhD Simon Fraser University) is a biological anthropologist whose main research topics include Pleistocene hominin evolution in Europe and mortuary ritual among sedentary and semi-sedentary archaeological hunter-gatherers. She has two active international projects: one in Serbia focusing on hominins excavated in Paleolithic caves, and the other in Cuba where she is working on questions of mortuary practice and ritual continuity.
Dr. Mirjana Roksandic is a recipient of NSERC, SSHRC SRG and SSHRC IOF grants. She currently teaches a field school in Paleoanthropology and Paleolithic Archaeology in Sicevo George in Serbia.
Click Here for Prof. Roksandic on Women in Science!
---
Courses:

Introduction to Forensic Anthropology (ANTH-2304/BANT-2304), Human Evolution (ANTH-3308/ANTH-4308/BANT-3308/BANT-4308), Human Paleopathology (ANTH-4311/BANT-4311), International Field School (ANTH-4230)
Publications:

Chinique de Armas Y., Roksandic M. (in press) Assessing the biological and cultural diversity of Archaic populations from Western Cuba. Bioarchaeology in Latin America. In: D Ubelaker, S Colantonio, Eds. Bioanthropology in Latin America and the Caribbean. Smithsonian Institution Scholarly Press.Radović P, Lindal J, Marković Z, Alaburić S, Roksandic M (Accepted) First record of a fossil monkey (Primates, Cercopithecidae) from the Late Pliocene of Serbia, Journal of Human Evolution. Accepted Spetmber 16, 2019.
Chinique de Armas Y, Rodriguez Suarez R, Buhay WM, Roksandic M. (2019) Subsistence strategies and food consumption patterns of Archaic Age populations from Cuba: From traditional perspectives to current analytical results. In: CL Hofman and AT Antczak Eds. Early Settlers of the Insular Caribbean: Dearchaizing the Archaic. Sidestone Press Leiden, 107-120.
Radović P, Lindal J, Mihailović D, Roksandic M (2019) The first Neanderthal specimen from Serbia: Hominin material from the Upper Pleistocene strata of Pešturina cave. Journal of Human Evolution 131: 139-151. https://doi.org/10.1016/j.jhevol.2019.03.018
Roksandic I, Roksandic M. (2019) Peopling of the Caribbean. In: K. Harvati, G. Jäger and H. Reyes-Centeno Eds. New Perspectives on the Peopling of the Americas. Kerns Verlag Tübingen, 199-223.
Chinique de Armas, M Roksandic (2018) Breastfeeding and Weaning Practices in Ancient Populations: A Cross-Cultural View (International Journal of Osteoarchaeology Special issue) Volume 28; issue 5. Pages 475-612.
Roksandic M, Buhay WM, Byers D, Lechado Rios L, Duncan HJC, Roksandic I (2018). The earliest dated burial from the Caribbean coast of Nicaragua: Angi shell-matrix site, community of Monkey Point. Antiquity 92  (366):1478-1491. https://doi.org/10.15184/aqy.2018.142
Roksandic M, Radović P, Lindal J (2018). Revising the hypodigm of Homo heidelbergensis, a view from the Eastern Mediterranean. Quaternary International, 466: 66-81. 
Smith D, Chinique de Armas Y, Rodríguez Suárez R, Buhay WM, Roksandic I, Peros M, Roksandic M (2018) Crossing the subsistence divide: The case of Canímar Abajo and the contemporaneous sites in Cuba and the Caribbean. In: B Reid Ed. The archaeology of Caribbean and circum-Caribbean farmers (5000 BC - AD 1500). Routledge, 98-112.