1BUW Program Fall 2019
One Book UWinnipeg
---
All events are open to the public.
FREE BOOKLET: "How Comics Work" booklet (DOWNLOAD HERE)
1BUW has prepared a comics booklet for all participants, illustrated by Ojibwe cartoonist Alice RL, to support comics literacy and invite critical analysis of both the visual and narrative techniques in each of the contributions to This Place: 150 Years Retold. Print copies will be distributed at 1BUW events and to instructors.
---
Brown Bag Workshop for 1BUW Instructors
Sponsored by the Department of English
August 21st from 12:00-1:30 in 2M67
This informal workshop will allow 1BUW instructors to share ideas and ask questions with each other, the 1BUW organizing team, and an editor involved in producing This Place.
---
TOURING EXHIBIT: When Raven Became Spider. Gallery 1C03.
September 19th to November 30th at UW
When Raven Became Spider is a travelling exhibit curated by Leena Minifie, a Gitxaala/British artist, writer, and curator based in Vancouver, B.C. The exhibit, which exclusively features art by Indigenous creators, including Joi T. Arcand (Cree), Sonny Assu (Kwakwa̱ka̱'wakw), and Shaun Beyale (Navajo), explores the intersection of indigenous art and stories and contemporary superhero comics. Curator Jennifer Gibson welcomes class visits and tours, contact her (j.gibson@uwinnipeg.ca) to arrange in advance.
---
1BUW Launch and Reception
Sponsored by UWFA and the Office of the President
September 26th from 4-5:30pm in 2M70
The official launch of 1BUW will take place at an afternoon reception with refreshments. Guests will include: Dr. Annette Trimbee, UW President; Dr. Niigaan Sinclair, Highwater Press Indigenous graphic novels series editor and contributor to This Place: 150 Years Retold; and Alice RL, illustrator of the 1BUW Booklet "How Comics Work." Everyone welcome.
---
1BUW Writer-in-Residence
Sponsored by the Faculty of Arts
Office Space provided by Centre for Research in Cultural Studies/Centre for Research in Young People's Texts and Cultures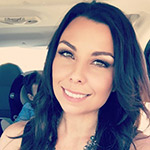 Jen Storm (October 21st – October 25 th)
The English Department is hosting a 1BUW Writer-in-Residence for one week in the Fall term, supported by the Dean of Arts.  Jen Storm is an Ojibwe writer from the Couchiching First Nation in Northwestern Ontario and a novelist, graphic novelist, and illustrator who contributed to This Place: 150 Years Retold.  She will be available during this week to meet with members of the UW Community to discuss their writing. See our Writer-in-Residence page for more information.
---
Indigenous Comics Panel: "Redrawing the Past, Reimagining the Future: Indigenous Comics Today"
Moderated by Dr. Julie Pelletier (Anthropology)
Sponsored by the H. Sanford Riley Fellowship in Canadian History

October 23rd from 7:00-9:00pm in the UWinnipeg Library Commons

Speakers: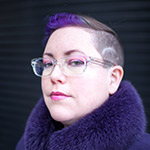 Chelsea Vowel

Chelsea Vowel is Métis from manitow-sâkahikan (Lac Ste. Anne) Alberta, residing in amiskwaciwâskahikan (Edmonton). Mother to six girls, she has a BEd and LLB, and is currently a graduate student and Cree language instructor at the Faculty of Native studies at the University of Alberta. Chelsea is a public intellectual, writer, and educator whose work intersects language, gender, Métis self-determination, and resurgence. Cohost of Indigenous feminist sci-fi podcast Métis in Space, Chelsea blogs at apihtawikosisan.com and makes legendary bannock.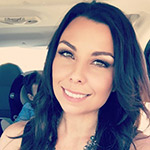 Jennifer Storm, 1BUW Writer-in-Residence

Jen Storm is an Ojibwe writer from the Couchiching First Nation in Northwestern Ontario. Born and raised in Winnipeg, Manitoba, Jen completed Deadly Loyalties, her first novel, at age fourteen. Fire Starters was her first graphic novel. She is a contributing author to This Place: 150 Years Retold and the upcoming graphic novel anthology Moonshot Volume 3. Currently, she working on another graphic novel and is an acquisitions editor for a new Indigenous graphic novel series with Highwater Press. Jen was a 2017 recipient for the CBC Manitoba's Future 40 Over 40. She can be found on Instagram @jenstorm where she shares her passion for creating art and posts updates on her future projects.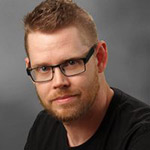 Scott B. Henderson
Scott Henderson is author/illustrator of the sci-fi/fantasy comic, The Chronicles of Era and has illustrated select titles in the Canadian Air Force's For Valour series, Tales From Big Spirit series, the graphic novel series 7 Generations, Betty: The Helen Betty Osborne Story, select stories in This Place: 150 Years Retold, and Eisner-award nominee, A Blanket of Butterflies. In 2016, he was the recipient of the C4 Central Canada Comic Con Storyteller Award. https://scotthendersonart.wordpress.com/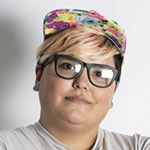 Alice RL
Alice RL is a professional Illustrator and Art Teacher based in Winnipeg, Manitoba. The non-binary, transgender, Ojibawe artist draws inspiration from their experiences and cultural teachings and melds it with a signature palette of bright, playful hues to create stunning juxtapositions of human brutality and emotion with hope and whimsy. Alice's range of projects include game and comic book art, digital and traditional illustration, and graphic design. Alice is a Graduate of the University of Manitoba Fine Arts Program and Digital Media Design at Red River College. Alice is deeply involved in the local art community and strives to improve themselves and others. Whether working in digital or traditional art, Alice brings a unique personal style and emotional impact into all their creations.
---
Guest Speaker: Katherena Vermette on "Annie of Red River."
Sponsored by the H. Sanford Riley Fellowship in Canadian History.
October 29th, 2:30-3:45 in the Leatherdale Commons
Governor-General's Award winning author and UW alumn Katherena Vermette will speak about her contribution to This Place and Métis history in Canada. Everyone welcome.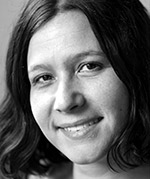 Katherena Vermette is a Métis writer from Treaty One territory, the heart of the Métis nation, Winnipeg, Manitoba, Canada. Her first book, North End Love Songs (The Muses Company) won the Governor General's Literary Award for Poetry. Her novel, The Break (House of Anansi) was bestseller in Canada and won multiple awards, including the 2017 Amazon.ca First Novel Award. Her second book of poetry, river woman (House of Anansi) and eighth children's picture book, The Girl and The Wolf (Theytus) were both released in late 2018. She is also the author of the picture book series, The Seven Teachings Stories (Highwater Press) and the graphic novel series, A Girl Called Echo (Highwater Press). And, along with a whole team of talented filmmakers, she co-wrote and co-directed the short doc, this river (NFB) which won the 2017 Canadian Screen Award for Best Short.
Katherena is a graduate of the University of Winnipeg and was the 2017 Carold Shields Writer-in-Residence.
---
Brown Bag Book Club with artist GMB Chomichuk: "Drawing Indigenous History."
Sponsored by Gallery 1C03.
November 8th, 12:30-1:30 in Room 2C11
Everyone is welcome to attend a discussion with Winnipeg artist, illustrator, and multimedia artist GMB Chomichuk, who will share his experiences collaborating with Indigenous writers and contributing to This Place: 150 Years Retold and lead a more general discussion of the book. To register for this limited-space event, click here.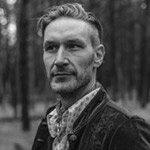 GMB Chomichuk is an award-winning writer and illustrator whose work has appeared in film, television, theatre, books, comics and graphic novels. His most recent work with HighWater Press, Will I See?, was a collaboration with writer David A. Robertson and singer/songwriter Iskwē. He writes and/or illustrates occult suspense stories like Midnight City, science fiction works like Red Earth, or inspirational all-ages adventure stories like Cassie and Tonk. He is the host of Super Pulp Science a podcast about how genre gets made. His newest full length graphic novel Apocrypha: The Legend of Babymetal was featured on The Hollywood Reporter, The Nerdist, and Billboard Magazine.
In February-March, GMB Chomichuk will be the University of Winnipeg's 2020 Carol Shields Writer in Residence. 
---
1BUW Special Guest: Cole Pauls, "Keeping Our Cultures Alive: Language Revival and Indigenous Comics"
Sponsored by Gallery 1C03, the Weweni Indigenous Speakers Series, and the University of Winnipeg Collegiate
November 26th, 10:30-11:30, in Leatherdale Commons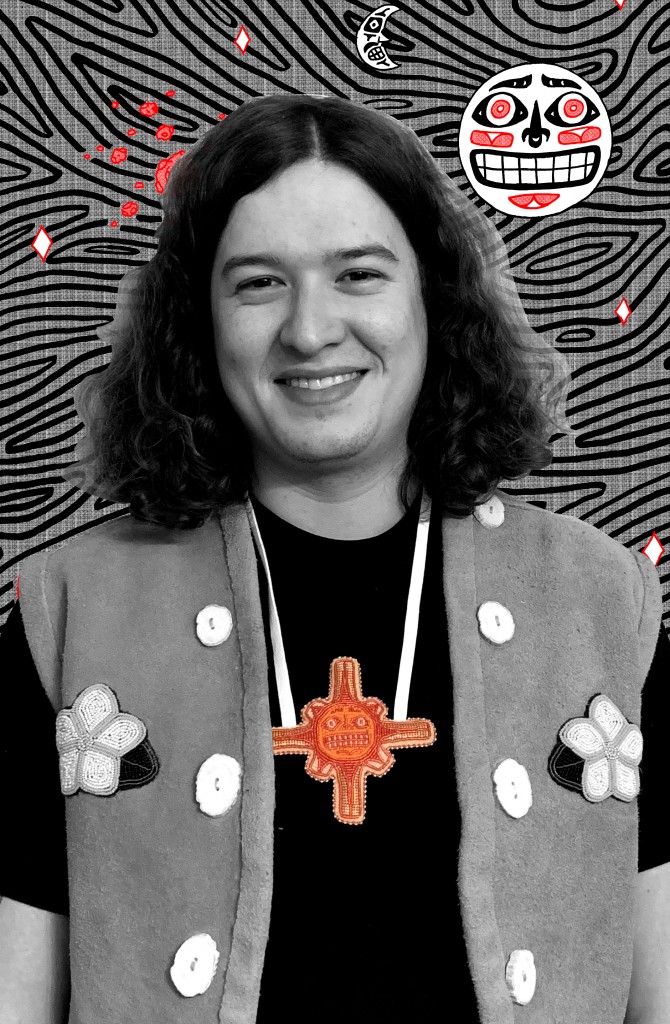 NOTE: A sample of Cole Pauls' artwork is on display across for Gallery 1C03
Cole Pauls is a Tahltan comic artist, illustrator and printmaker hailing from Haines Junction (Yukon Territory) with a BFA in Illustration from Emily Carr University. Residing in Vancouver, Pauls focuses on his two comics series, the first being Pizza Punks (https://pizzapunkscomix.tumblr.com/),a self contained comic strip about punks eating pizza, the other being Dakwäkãda Warriors. In 2017, Pauls won Broken Pencil Magazine's Best Comic and Best Zine of the Year Award for Dakwäkãda Warriors II.
Follow Cole Pauls here: https://www.instagram.com/tundrawizard/
The Dakwäkãda Warriors zines have just launched as a collected volume with Conundrum Press in Fall 2019: https://www.conundrumpress.com/forthcoming/dakwakada-warriors/
Watch a CBC video about Cole's Indigenous futurist and punk comics:
https://www.cbc.ca/arts/exhibitionists/cole-pauls-s-comics-preserve-first-nations-language-and-also-celebrate-punks-eating-pizza-1.5092379
---
1BUW Student and Faculty Symposium: "Reading This Place: 150 Years Retold at UW"
Sponsored by the Weweni Indigenous Speakers Series and the Office of the President.
November 29th, 9:00-3:00, in 2M70. Lunch provided for presenters.
Presentations by students and faculty, with the participation of Associate Vice-President of Indigenous Engagement and Indigenous Studies faculty Dr. Lorena Fontaine and Dr. Julie Pelletier.
The Call for submissions is posted here and free registration for all attendees is requested by November 22nd using this form: SYMPOSIUM REGISTRATION FORM.
The 1BUW Essay and Artwork Prizes will be awarded following the keynote address.
Keynote Speaker: David Alexander Robertson, "Truth, Representation, and Reconciliation in Comics"
12:30-1:30 in Eckhardt Grammaté Hall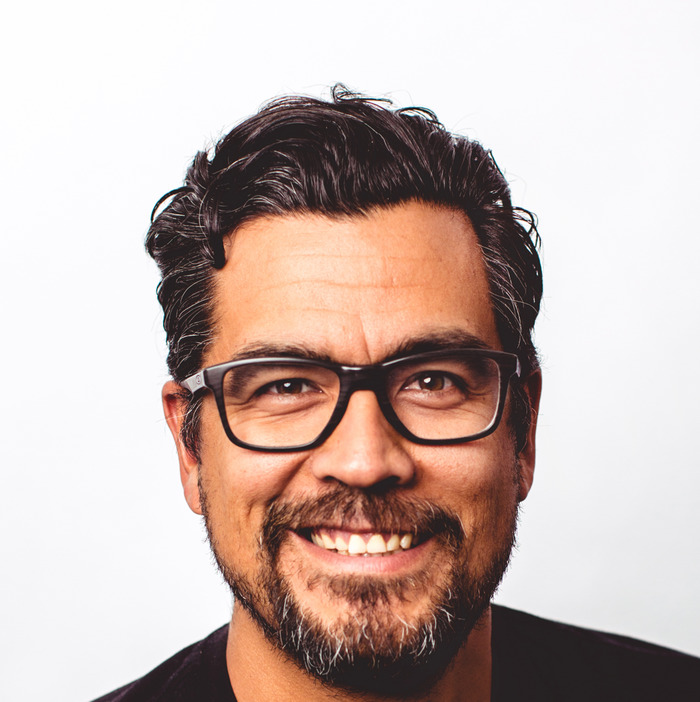 David A. Robertson is a nationally bestselling author of children's books, graphic novels, and novels. His books include When We Were Alone (Governor General's Literary Award winner, McNally Robinson Best Book for Young People winner, TD Canadian Children's Literature Award finalist), Will I See? (Manuela Dias Book Design and Illustration Award, Graphic Novel Category), and the YA novel Strangers (Michael Van Rooy Award for Genre Fiction, Best Indigenous Writer at the High Plains Book Awards). David educates as well as entertains through his writings about Indigenous Peoples, reflecting their cultures, histories, communities, as well as illuminating many contemporary issues. David is a member of Norway House Cree Nation. He lives in Winnipeg.