Events Blog
One Book UWinnipeg
---
Contents:
Kim Thien Cao on Kent Monkman, Shame and Prejudice, Winnipeg Art Gallery
Sophia Hershfield on the 1BUW Panel Discussion
---
Shame and Prejudice

by Kent Monkman
Winnipeg Art Gallery Exhibit
Report by Kim Thien Cao for English 4717: Indigenous Comics
October 2, 2019
How to cite this blog post in MLA 8:
Cao, Kim Thien. "Shame and Prejudice by Kent Monkman." One Book UW, University of Winnipeg, 3 Nov. 2019, www.uwinnipeg.ca/1b19/eventsblog

Overview
  Kent Monkman, a Cree artist originally from Winnipeg, responded to 'Canada 150' by showcasing Shame and Prejudice: A Story of Resilience at the Winnipeg Art Gallery to challenge colonial points of view. Monkman's exhibit includes eight chapters that re-center Indigenous stories through their alter ego, Miss Chief Eagle Testickle, a Two-Spirit trickster. The use of chapters in an art exhibit highlights tangible pieces of Miss Chief's memoirs, reflecting Indigenous resiliency and histories. Ultimately, Monkman takes back stories that have been silenced and asserts Indigenous autonomy and survival.
Artist's Talk
On September 27, 2019 Monkman discussed his artistic process, the nostalgia of frequenting the WAG in his younger days, and his goal to create/rewrite shared histories and how they are displayed in the gallery. In his closing remarks, Monkman talked about Winnipeg's north end as a place of inspiration, describing it as "textured […] grittiness".
A video of Monkman explaining his exhibit can be found here along with his installations.
Exhibit Observations & Reflection
A few highlighted chapters from Monkman's exhibit, personal observations and a reflection can be found below.
Chapter 2 Fathers of Confederation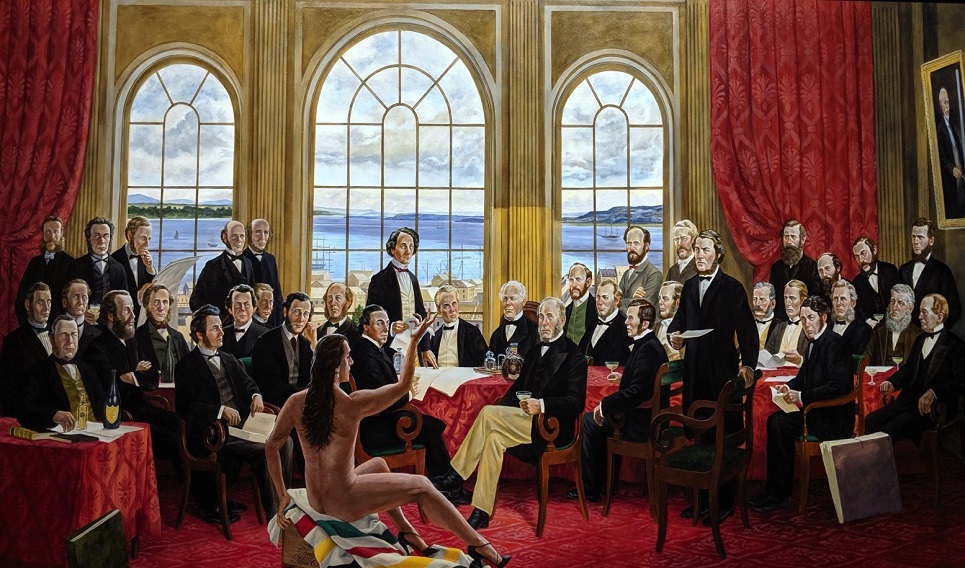 "Men are so simple, blinded by greed, they see only that from which they think they can profit" (Monkman, Kent. Shame and Prejudice: A Story of Resilience, 27 Sept. 2019-Feb 2020, Winnipeg Art Gallery, Winnipeg.)
Observations:
Miss Chief Eagle Testickle challenges the white gaze by literally sitting on the HBC blanket (a $ymbol of colonization/commodity) with their bare buttocks and commands the room while John A. MacDonald is in the background. By inserting their queer Indigenous presence, Miss Chief acts as a trickster, causing mischief and trivializing official portraiture of the 'Fathers of Confederation'.
Chapter 5 Forcible Transfer of Children
"This is the one I cannot talk about. The pain is too deep. We were never the same" (Monkman, Kent. Shame and Prejudice: A Story of Resilience, 27 Sept. 2019-Feb 2020, Winnipeg Art Gallery, Winnipeg.)
Observations:
Named after The Scream by Edvard Munch, the painting shows the blatant violence Indigenous families and children faced during their removal. Scream answers Stephen Harper (and many like him) who believe that 'Canada' did not have a colonial history (0:00:40-0:01:17). Thus, the painting rectifies historical/ongoing colonial harms that can no longer be denied.
Chapter 8 Sickness and Healing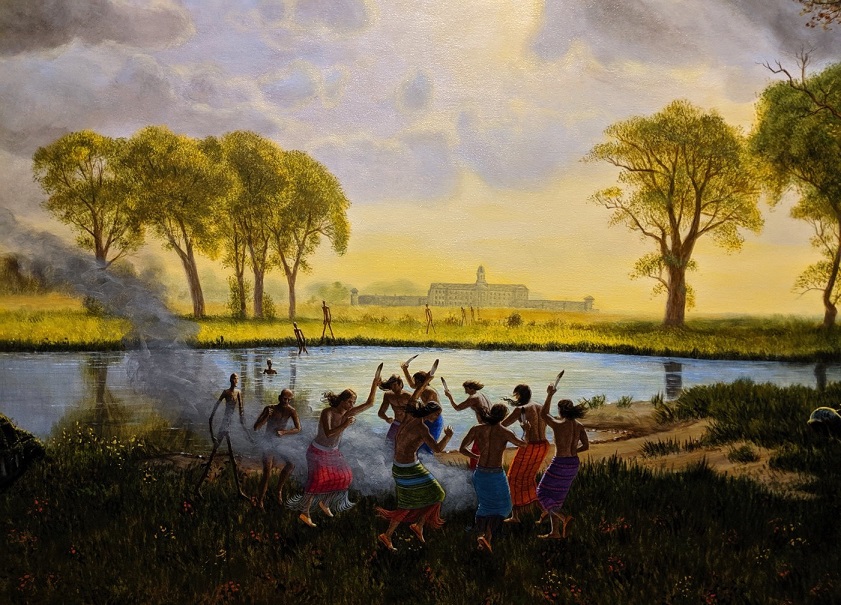 "I visit my people to bring them the solace of our spirituality, that they may rise up out of this cycle of destruction, learn the language of their souls and be free once more"(Monkman, Kent. Shame and Prejudice: A Story of Resilience, 27 Sept. 2019-Feb 2020, Winnipeg Art Gallery, Winnipeg.)
Observations:
Monkman addresses lateral violence and the over-representation of Indigenous peoples in . Reincarceration speaks to the resurgence of ceremonies and dance (as seen in the painting) that have oppressed Indigenous In essence, Monkman emphasizes Indigenous resiliency by means of reclaiming their identities, languages and spirit as a means of healing.
Questions & Reflections
Monkman admits that the WAG is a colonial space. He works to decentre dominant conversations but, I wonder, who is this exhibit for? Before the artist's talk, the WAG's Inuit Art Centre video targeted future attendees/donors with their new initiative by showcasing the 'diversity' of peoples coming to the gallery and how it 'connects us'. The contradictions between the video and what was reflected in the audience leaves me to ponder, is Monkman's critical message getting out to the public like KC Adams work with Perceptions? Do I settle to stand behind bourgeois white folks at the Monkman exhibit reading Duncan Campbell Scott's statement, "I want to get rid of the Indian problem" and listen to their quiet gasp of 'wow', a response one would say that is centuries too late? Retrospectively, it is easier to be cynical rather than hopeful; I want to choose the latter. As Mihesuah and Cavender argue, colonial "institution[s] are [being] shaken; to compel […] responsiveness to Indigenous issues" (qtd. in Callison et al. 48) and when artists like Monkman make use of white spaces to create tension between de/colonial narratives, is it so wrong to cling onto hope?
Works Cited
Adams, KC. "Perceptions." YouTube, YouTube, 25 Mar. 2015, https://www.youtube.com/watch?v=N1LIZPs8Spw.
"BIOGRAPHY." Kent Monkman, https://www.kentmonkman.com/biography?rq=shame and prejudice.
Callison, Camille, et al. "Making Use of the White Space: The Mazinbiige Indigenous Graphic Novel Collection at the University of Maniotba." p. 48.
Chartrand, Vicki. "Broken System: Why Is a Quarter of Canada's Prison Population Indigenous?" The Conversation, 12 June 2019, http://theconversation.com/broken-system-why-is-a-quarter-of-canadas-prison-population-indigenous-91562.
Docs, CBC. "Colonization Road: The Path of Reconciliation Is Long and Winding." YouTube, YouTube, 24 Nov. 2017, https://www.youtube.com/watch?v=u03qLJ50bf4.
"INSTALLATION." Kent Monkman, https://www.kentmonkman.com/installation.
Lizard, Visual. "Current: Winnipeg Art Gallery." Current | Winnipeg Art Gallery, https://www.wag.ca/art/exhibitions/current-exhibitions/ display,exhibition/236/kent-monkman-shame-and-prejudice
"Meaning of The Scream (1893) Painting by Edvard Munch: Art Analysis." LEGOMENON, https://legomenon.com/meaning-of-the-scream- 1893-painting-by-edvard-munch.html.
Monkman, Kent. "Shame and Prejudice." 27 Sept. 2019. Winnipeg Art Gallery. Lecture.
University of Toronto. "Shame and Prejudice: Artist Kent Monkman's Story of Resilience." YouTube, YouTube, 7 Feb. 2017, https://www.youtube.com/watch?v=SxQ4c7mIuOM&feature=youtu.be
---
The 1BUW Panel Discussion
October 23, 2019, University of Winnipeg
Report by Sophia Hershfield, BA in English
How to cite this blog post in MLA 8:
Hershfield, Sophia. "The 1BUW Panel Discussion." One Book UW, University of Winnipeg, 3 Nov. 2019, www.uwinnipeg.ca/1b19/eventsblog 
Overview
On October 23rd, One Book UWinnipeg hosted a panel called "Redrawing the Past, Reimagining the Future: Indigenous Comics Today." The panel featured Jennifer Storm, the 1BUW Writer in Residence, as well as Alice RL, Chelsea Vowel, and Scott B. Henderson. The panel was moderated by Dr. Julie Pelletier, a professor of Anthropology at the University of Winnipeg.
The panel began with some reflection from each of the speakers on the significance of This Place: 150 Years Retold for both creators and for readers. Jen Storm, the author of the chapter "Red Clouds," explained that she wished to tell a Wendigo story and provide a woman's perspective on a history that is often told from a male perspective. Scott B. Henderson discussed his role as a non-Indigenous illustrator working on This Place. Chelsea Vowel discussed Indigenous futurism, and how these stories are not just about Indigenous futures, but also Indigenous past and present, and are by nature subversive texts. Vowel talked about her chapter in This Place, "kitsakînaw 2350," which takes place in the future. She explained that she wanted to explicitly work against post-apocalyptic narratives, as she pointed out that Indigenous people are already a post-apocalyptic people, and apocalypse anxiety is an anxiety of settler readers rather than Indigenous readers. Alice RL spoke about their experience reading This Place. They explained that they felt hesitant after looking at the ratio of Indigenous to non-Indigenous collaborators on the text. Alice discussed how easily Indigenous stories get whitewashed and used the example of a videogame which featured a Wendigo story without any Indigenous characters.
The panel opened up to some general questions from the audience. The questions that sparked my interest the most were about the commercial success of Indigenous comics, as well as whether or not comics can be subversive when they are taught in colonial institutions like universities. The discussion brought up the complexities of the ways in which we are trapped in a colonial and capitalist society. It is unfortunate that the works of Indigenous artists and writers cannot be completely separated from questions about their commercial success, or the fact that the institutions that are studying these works are colonial in their existence. Although the panelists admitted that being a comics artist is not the most profitable area of work, they still found great meaning in telling Indigenous stories.
Although studying Indigenous comics in classrooms won't decolonize universities overnight, many of the panelists discussed the impact of having access to Indigenous stories from Indigenous creators for readers. One audience member asked whether comic books about Indigenous stories provide representation or simply trivializations, and all the panelists seemed to agree that seeing Indigenous characters, traditions, and symbols being told by Indigenous storytellers has a massive impact on young Indigenous readers. Although commercial value is easier to calculate, the value that these stories provide to readers is immeasurably powerful.