Financial Literacy Research Project
Master's in Development Practice (MDP) in Indigenous Development
---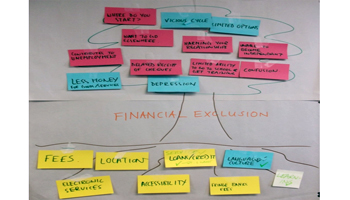 During this practicum,
Gabrielle Héroux
and
Stella Rakwach
participated in conducting a study to examine Manitoba aboriginal peoples' financial literacy and to examine their experiences with banks and financial institutions. The host organizations were the University of Winnipeg,
Ma Mawi Wi Chitata Centre Inc
and
Fisher River Cree Nation
. The purpose of the study is to better understand aboriginal peoples' and organizations' current experiences with finances and banking to build their capacity to use these (finances and banking) to improve their self-defined well-being.  Working as a team, and in partnership with community members and organizations, the students helped conceptualize and carry out various methods of data collection (survey, life histories, participatory methods) in both rural and urban settings.