Gabrielle Heroux
Master's in Development Practice (MDP) in Indigenous Development
---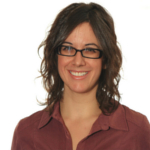 Gabrielle Héroux comes to the MDP program from Ottawa, where she obtained her Bachelor of Humanities, High Honours, from Carleton University in 2007. She also holds a Diploma of Journalism from Concordia University's School of Continuing Education. 
Héroux's passion for indigenous development stems from her own Cree heritage, and the lived experiences – the struggles, challenges and triumphs – of her family.  As such, she is primarily interested in Aboriginal issues in Canada.
The best way to drive sustainable, meaningful change is to turn oneself from a well-meaning pair of hands into an engaged and engaging human resource, with the skills and knowledge to work anywhere and with anyone, and this is what Héroux hopes to achieve with the MDP.  She is very grateful for the funding she has received that will allow her the opportunity to do so.