Study Abroad
With French - You can go places!
If you are looking for an unforgettable experience that will help prepare you for your career in tomorrow's world, take advantage of one of the following programs.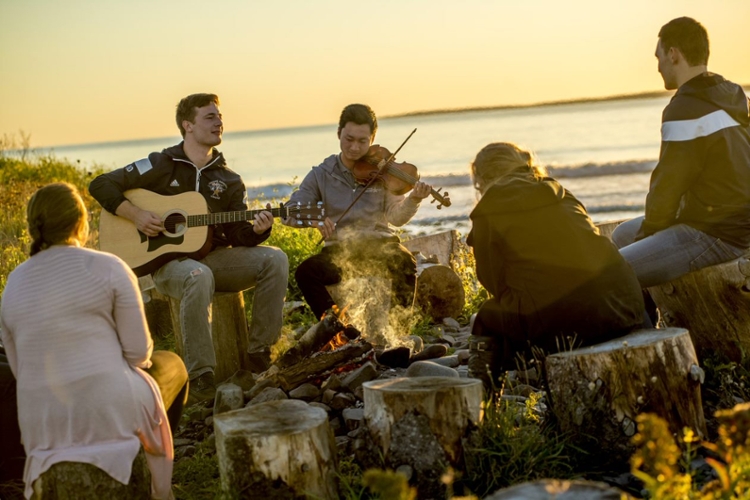 The Explore Program
Explore is an intensive French-immersion program that is offered during the spring and summer at a variety of institutions across Canada. The costs of tuition, course materials, your accommodations, your meals, and the activities are covered for you. If you are interested in learning or improving your French and traveling to a new part of Canada, then Explore might be the perfect program for you. 
For more information, visit their website or contact Michelle Landry-Nanka at languesofficielles@gov.mb.ca. 
These courses are usually transferrable for credit as UWinnipeg French Studies courses. For how to transfer Explore Program credits, please click here.
After completing your course, you could stay on in a French summer job program placement. For more information, visit https://languagesatwork.ca.
The TOURS (France) Exchange Program
Each year, two (2) UW students can take arts and science courses at the University of Tours (France) for a semester or a full academic year. You won't have to pay tuition fees but you will have to cover all other expenses including airfare, textbooks, meals, accommodation and general living expenses. For more information on eligibility, please contact Professor Adina Balint at a.balint@uwinnipeg.ca. 
The deadline for Outbound applications to The University of Winnipeg is February 15, 2022. For the application form, please visit the Tours Exchange Program website.
Odyssey is a nine-month paid work experience in a classroom setting (approximately $25 per hour). Discover whether the field of education is right for you and experience francophone culture and way of life in New Brunswick or Quebec. Develop new skills and improve your French-speaking skills while sharing your language and culture with students!
For more information, visit their website or contact Michelle Landry-Nanka at languesofficielles@gov.mb.ca.
The France-Canada Exchange Program
Each year, 350 students get the opportunity to work in a school in France as an English language assistant. If you are 20-30 years old and have completed 60 credit hours at university, you can apply. For more information, visit their website.
Intercultural Mentor Positions
The Exchange Office is excited to launch our 2021-22 Intercultural Mentor (IM) Positions!
The IM Project is a video campaign that illustrates how an outbound mobility experience (Exchange) impacts a student's intercultural awareness - your intercultural journey!
As an Intercultural Mentor, you will be asked to submit a series of vlogs and posts to share your intercultural journey with other students, so that we can follow along your journey!  The project culminates in a professional video, highlighting the experience.  As an IM, you will receive a $4,000 stipend, to be used towards your exchange.  Please check out the link for more detail:  Intercultural Mentors.