Erín Moure - 2021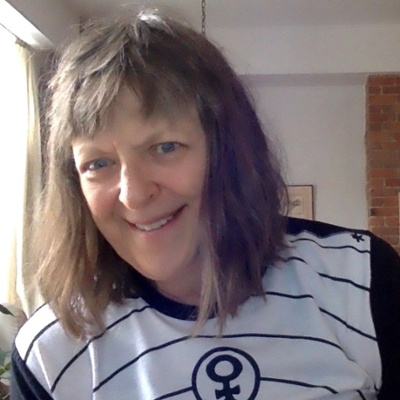 Photo of Erín Moure (photo supplied by Erín Moure)
This residency will take place completely online from September 15 to December 15, 2021.
Erín Moure is a highly acclaimed Canadian poet, essayist, and translator. Please see her more detialed bio below.
This residency will feature two exciting online events that will be free and open to the public for audience members who pre-register. Erín's inaugural reading will take place in September or early October, and she will take part in the Jake MacDonald International Writers' Conversation later in her term. Watch this space for the exact dates and the links to pre-register for these two events.

The residency will also allow members of the University of Winnipeg community to consult Erín about their own writing. This feature of the residency is limited to people who are attending or working at the University of Winnipeg or to people living within the city of Winnipeg. Interested Winnipeg writers, whether beginners or professionals, may begin booking appointments after September 15th.
How To Contact Erín Moure for WIR appointments:

Those in the U Winnipeg community can make an appointment with Erín to talk on Zoom about your work. Erín's email is e.moure@uwinnipeg.ca
Erín is a poet and a translator of poetry, who's also written unconventional essays (My Beloved Wager) and memoir, but she'll talk with you about any kind of creative writing or translation in any of your languages.

Her office hours are Wednesday and Thursday afternoons (1pm, 2pm, 3pm, 4pm: 30-45 minute appointments) until December 16, 2021.
Just send, one week before you want to meet, max 5 pages in Word (preferred) for her to read for your initial discussion: pick something you want feedback on or have concerns about!
Erín has provided a helpful guide for those who wish to submit work to discuss that can be accessed here

Bio: Erín Moure has published over forty books of poetry, essays, memoir, and translations and co-translations from French, Spanish, Galician, and Portuguese into English. Recent works are Planetary Noise: Selected Poetry of Erín Moure (Wesleyan, 2017), Sitting Shiva on Minto Avenue, by Toots (New Star, 2017), a translation into Frenglish of the Portuñol of Wilson Bueno's Paraguayan Sea (Nightboat, 2017, finalist for a Best Translated Book award), and a reissue of Furious (Governor General's Award for poetry 1988, Anansi 2018). 2019 saw a translation of Galician poet Lupe Gómez, Camouflage (Circumference Books, finalist for a Best Translated Book award); a co-traduction with Roman Ivashkiv of Yuri Izdryk, Smokes (Lost Horse Press) from Ukrainian; In Leaf, a new annotated edition of her 2016 translation of New Leaves by Rosalía de Castro; and her own The Elements (Anansi). 2020 saw three translations: from the Galician of Uxío Novoneyra, The Uplands: Book of the Courel and other poems (Veliz Books), a sequence from Spanish by Juan Gelman, Sleepless Nights Under Capitalism (Eulalia Books); and Quebec poet Chantal Neveu's This Radiant Life (Book*hug). In 2021: Toots fait la Shiva, avenue Minto (Le Noroît, 2021, tr. Colette St-Hilaire from Sitting Shiva on Minto Avenue, by Toots, New Star 2017). Moure holds two honorary doctorates from universities in Canada and Spain, was 2017 WPR Creative Fellow at the Woodberry Poetry Room at Harvard University, 2019 international translator in residence at The Queen's College, Oxford University, a Kelly Writers House Fellow in March 2020 at UPenn, and gave the Leslie Scalapino Memorial Lecture in Innovative Poetics at Naropa University in 2021. For more information, see https://erinmoure.mystrikingly.com